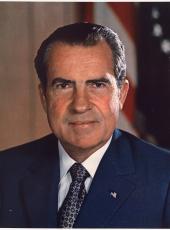 Telegram to the Apollo 11 Astronauts on the Eve of the Launch.
ON the eve of your epic mission, I want you to know that my hopes and my prayers-and those of all Americans--go with you. Years of study and planning and experiment and hard work on the part of thousands have led to this unique moment in the story of mankind; it is now your moment and from the depths of your minds and hearts and spirits will come the triumph all men will share. I look forward to greeting you on your return. Until then, know that all that is best in the spirit of mankind will be with you during your mission and when you return to earth.
Note: The President also telephoned the crew members, Neil A. Armstrong, Col. Edwin E. Aldrin, Jr., and Lt. Col. Michael Collins, at 6 p.m. on the evening preceding the launch. In describing the conversation, Press Secretary Ronald L. Ziegler reported that the President told the astronauts, "... as you lift off to the moon, you lift the spirits of the American people as well as the world." He also quoted the President as saying, "You carry with you a feeling of good will in this greatest adventure man has ever taken," and "I am particularly impressed by the fact that all three of you have the attitude of quiet and serene confidence, confidence that comes from superb training, preparation, and the inner strength of character which is characteristic and a common attitude of all our astronauts."
Richard Nixon, Telegram to the Apollo 11 Astronauts on the Eve of the Launch. Online by Gerhard Peters and John T. Woolley, The American Presidency Project https://www.presidency.ucsb.edu/node/239614