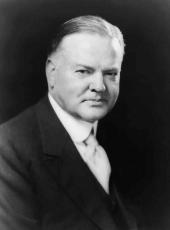 Telegram to President-Elect Franklin D. Roosevelt About Intergovernmental Debts
The Secretary of State has informed me that the British Ambassador, on behalf of his government, has handed him a note stating that "They believe that the regime of intergovernmental financial obligations as now existing must be reviewed; that they are profoundly impressed with the importance of acting quickly and that they earnestly hope that the United States Government will see its way clear to enter into an exchange of views at the earliest possible moment."
The British Ambassador further asks for a suspension of the payments due by the British Government to our Government for the period of the discussion suggested or for any other period that may be agreed upon. This last suggestion clearly relates to the payment of $95,000,000 which will fall due on December 15, 1932. I have requested the Secretary of State to transmit to you a full copy of that note.
The Secretary of State has also just been informed that similar requests are to be made by other debtor governments which likewise are obligated to make payments to the United States on December 15th next. One debtor nation has defaulted on a payment due November 10th and another debtor nation has served notice on our government of its incapacity to make a payment due in December. Thus our government is now confronted with a world problem of major importance to this nation.
The moratorium which I proposed a year ago in June--that is the year's postponement of intergovernmental debts and the spread of the deferred payment over 10 years was approved by the Congress. It served a great purpose in staying destruction in every direction and giving to Europe a year in which to realize and so modify their attitude on solely European questions as to support their credit structure from a great deal of further destruction. They have made very substantial progress during that year in financial adjustments among themselves and toward armament reduction.
Practically all of our World War debt settlements were made not by the Executive, but by the Commission created by Act of Congress, and all were approved in the form of legislation enacted by both Houses. A year ago in recommending to the Congress the ratification of the moratorium I presented a statement of my views as to the whole of the relationship of ourselves to our debtor countries and pointed out that debts to us bore no relationship to debts between other nations which grew out of the war.
At the same time I recommended to the Congress that a new Debt Commission be created to deal with situations that might arise owing to the temporary incapacity of any individual debtor to meet its obligations to our country during the period of world depression. Congress declined to accede to this latter recommendation; it passed a Joint Resolution reading in part as follows:
"It is hereby expressly declared to be against the policy of the Congress that any of the indebtedness of foreign countries to the United States should be in any manner cancelled or reduced; and nothing in this Joint Resolution shall be construed as indicating a contrary policy or as implying that favorable consideration will be given at any time to a change in the policy hereby declared."
The limitation to purely temporary and individual action as to those incapable of payment during the depression expressed in the "Communique" referred to in the British note, and in my recommendation to the Congress was evident in these documents. The refusal of the Congress to authorize even the examination of this limited question, together with the above resolution, gave notice to all debtor governments of the attitude of this Government toward either cancellation or reduction of existing obligations. Therefore any commitments which European Governments may have made between themselves could not be based upon any assurances of the United States. Moreover the tenor of negotiations asked for by the debtor governments goes beyond the terms of the Congressional resolution referred to.
I have publicly stated my position as to these questions including that I do not favor cancellation in any form but that we should be receptive to proposals from our debtors of tangible compensation in other forms than direct payment in expansion of markets for the products of our labor and our farms. And I have stated further that substantial reduction of world armament which will relieve our own and world burdens and dangers has a bearing upon this question. If negotiations are to be undertaken as requested by these governments, protracted and detailed discussions would be necessary which could not be concluded during my administration. Any negotiation of this question on the basis of the requests of these governments is limited by the resolution of the Congress. And if there is to be any change in the attitude of the Congress it will be greatly affected by the views of those members who recognize you as their leader and who will properly desire your counsel and advice.
This outlines where the question stands at the present moment.
I am prepared to deal with the subject as far as it lies in the power of the Executive, but it must be our common wish to deal with this question in a constructive fashion for the common good of the country. I am loath to proceed with recommendations to the Congress until I can have an opportunity to confer with you personally at some convenient date in the near future.
There are also other important questions as to which I think an interchange of views would be in the public interest. The building up of world economic stability is of course of the greatest importance in the building up of our recovery. As you know, a world economic conference will be held during the course of the coming winter. Already two American experts have met with the technical experts of other governments to prepare tentative agenda. While this conference may be begun during my administration, it is certain that it will not complete its labors until after you have assumed office.
Parallel with this, of course, is the disarmament conference in which the United States has taken a leading part, this also has a great economic purpose as well as the advancement of world peace.
Time is of great importance in all these questions and I understand that you are planning to come through Washington some time during the latter part of next week, and I hope you will find it convenient to stop off long enough for me to advise with you. I should, of course, be only too glad to have you bring into this conference any of the Democratic Congressional leaders or other advisers you may wish.
HERBERT HOOVER
[Governor Franklin D. Roosevelt, Albany, N.Y.]
[Released November 13, 1932. Dated November 12, 1932]
Note: The telegram was released to the press as the President's train neared Yuma, Ariz. On the same day, the Department of State released the British and French notes proposing new debt negotiations.
On November 14, President-elect Roosevelt replied as follows:
I appreciate your cordial telegram. On the subjects to which you refer, as in all matters relating to the welfare of the country, I am glad to cooperate in every appropriate way, subject, of course, to the requirements of my present duties as Governor of this State.
I shall be delighted to confer with you in Washington, but I have been confined to the house with a slight cold and I am, therefore, not able to suggest a definite date. I shall call you on the telephone as soon as the time of my departure for the South has been determined.
May I take the liberty of suggesting that we make this meeting wholly informal and personal. You and I can go over the entire situation.
I had already arranged to meet a number of the Democratic leaders of the present Congress late this month at Warm Springs. It will be helpful for me to have your views and all pertinent information when I meet with them. I hope that you also will see them at the earliest opportunity because, in the last analysis, the immediate question raised by the British, French and other notes creates a responsibility which rests upon those now vestal with executive and legislative authority.
My kindest regards.
FRANKLIN D. ROOSEVELT
[The President, Hutchinson, Kansas]
Herbert Hoover, Telegram to President-Elect Franklin D. Roosevelt About Intergovernmental Debts Online by Gerhard Peters and John T. Woolley, The American Presidency Project https://www.presidency.ucsb.edu/node/207555