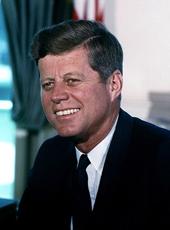 Telegram to Officials of the Boeing Company and the International Association of Machinists Concerning a Threatened Strike.
THE DIRECTOR of the Federal Mediation and Conciliation Service has reported to me that negotiations between the International Association of Machinists and the Boeing Company are stalemated. Agreements between the parties covering plant operations at Seattle, Washington, and Wichita, Kansas, as well as important work at numerous missile sites are due to expire on September 15, 1962, and strikes are threatened at these various locations.
Strikes at these important plants and missile sites would substantially delay our vital defense work, including the Minuteman Program, and would be contrary to the public interest.
The Director of the Federal Mediation and Conciliation Service has advised me that the appointment of a distinguished Public Board to assist further mediation efforts and, if necessary, to make a report and recommendations would, under all of the circumstances involved, be helpful in resolving the dispute and in effecting settlements.
In this important industry, all parties have a responsibility to cooperate in achieving a settlement without any interruption of work. Accordingly, I request the parties to this dispute to continue work and operations with the status quo being preserved under all of the terms and conditions of the existing agreements until November 15, 1962, or until agreements are reached, whichever date occurs first. I further request the union to withdraw all strike action during this period.
I am appointing a Board of distinguished citizens to supplement continuing mediation efforts of the Federal Mediation and Conciliation Service and, if necessary, to conduct hearings and to report its findings and recommendations to me and to the parties on or before October 15, 1962. The remaining period until November 15, 1962, if needed, is to provide adequate time for further negotiations.
The Members of the Board are: Mr. Saul Wallen, Chairman, Mr. Lewis M. Gill and Mr. Patrick J. Fisher. I am requesting the parties to cooperate fully with the Board in the discharge of its important responsibilities.
JOHN F. KENNEDY
Note: This is the text of identical telegrams sent to William M. Allen, President, the Boeing Go., Seattle, Wash., and two other Boeing officials and to A. J. Hayes, President, International Association of Machinists, and seven other officers of the union.
On October 4 the White House announced that the President had extended the date on which the Board was to report its findings to November 5. On November 6 a further extension to January 5, 1963, was announced. The White House release of November 6 stated that the parties had agreed to postpone possible strike action until January 15, 1963.
John F. Kennedy, Telegram to Officials of the Boeing Company and the International Association of Machinists Concerning a Threatened Strike. Online by Gerhard Peters and John T. Woolley, The American Presidency Project https://www.presidency.ucsb.edu/node/236830