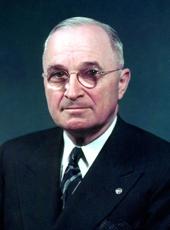 Telegram to Labor and Management Leaders Following Receipt of Report of the Steel Factfinding Board.
THIS MORNING the Steel Industry Board has reported to me its unanimous findings and recommendations as to fair and equitable terms of settlement of the current labor disputes in the steel industry. The national interest requires that the United Steelworkers of America (CIO) and every employer involved in such labor disputes give the greatest weight and the most earnest consideration to the findings and recommendations of the three members of that Board as a basis for a prompt settlement of such disputes.
The parties to the labor disputes previously were requested to continue work and operations under the terms of the then existing collective bargaining agreements for a period of sixty days from July 16, 1949. This period will expire at 12:01 A.M. September 14, 1949. Obviously, additional time is required by all, including me, for study and consideration of the Board's findings and recommendations. The public interest in avoiding a stoppage of work and operations in vital segments of the steel industry, accordingly, makes it necessary for me to request at this time that the period for continued work and operations under the terms of such collective bargaining agreements be extended by both parties at least until September 25, 1949. I urge all parties in the steel industry labor disputes to cooperate with this request. During this extended period I shall expect the Director of the Federal Mediation and Conciliation Service to make available to the parties every facility at his disposal in order to assist them in reaching agreement.
HARRY S. TRUMAN
Note: This is the text of identical telegrams addressed to 58 labor and management leaders in the steel industry.
The report of the Steel Industry Board, entitled "Report to the President of the United States on the Labor Dispute in the Basic Steel Industry" (Government Printing Office, 1949, 83 pp.), was submitted to the President on September 10, 1949. In the report the Board recommended against any wage rate increase at that time. It recommended the adoption of social insurance plans at reduced amounts from those asked by the union. It also recommended a system of pensions in an amount below that demanded by the union; but suggested a labor-management study of details and costs of pensions to be completed by March 1, 1950.
The Board was named by the President on July 15, 1949, and held hearings for 18 days in the U.S. Courthouse in New York City. Its members were: Carroll R. Daugherty of Evanston, Ill., professor of economics at Northwestern University, chairman; Samuel I. Rosenman of New York City, lawyer; and David L. Cole of Paterson, N.J., lawyer.
For the President's letter of September 21 to steel industry labor and management leaders urging an early settlement of the dispute, see Item 213.
Harry S Truman, Telegram to Labor and Management Leaders Following Receipt of Report of the Steel Factfinding Board. Online by Gerhard Peters and John T. Woolley, The American Presidency Project https://www.presidency.ucsb.edu/node/230064