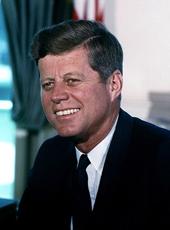 Telegram to Governors of States Having Yet To Act on the Anti-Poll Tax Amendment.
[ Released March 22, 1963, Dated March at, 1963 ]
I SHOULD like to direct your attention to the proposed 24th Amendment to the Constitution of the United States which would prohibit the payment of poll taxes as a condition for voting. This proposal, which had strong bipartisan sponsorship and support in the Congress and was adopted by overwhelming majorities in both Houses of Congress, should be acted upon as promptly as possible.
As of today, 22 state legislatures have ratified the proposed Amendment by virtually unanimous action. Because very few state legislatures will meet in 1964, action by individual states now is essential if the proposed Amendment is to be effective during the 1964 elections.
Although the process for amending the Constitution, as prescribed in the document itself, does not provide a formal opportunity for the President to express his approval or disapproval of any proposed Amendment, I have on many occasions indicated my wholehearted support for this particular proposal. Every effort should be made to broaden the base of citizen participation in national and local affairs through the voting process. One important contribution to this objective can be the elimination of the poll tax as an obstacle to voting. I hope that your state legislature will be able to take up the proposed Amendment at an early date and that it will be ratified.
JOHN F. KENNEDY
Note: This is the text of identical telegrams sent to the Governors of the following States: Alabama, Arizona, Arkansas, Connecticut, Delaware, Florida, Georgia, Iowa, Kansas, Kentucky, Louisiana, Maine, Massachusetts, Missouri, Nebraska, New Hampshire, North Carolina, Oklahoma, Pennsylvania, South Carolina, Texas, Virginia, and Wisconsin.
John F. Kennedy, Telegram to Governors of States Having Yet To Act on the Anti-Poll Tax Amendment. Online by Gerhard Peters and John T. Woolley, The American Presidency Project https://www.presidency.ucsb.edu/node/237078