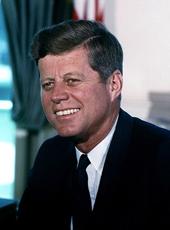 Telegram to Governor Wallace Concerning Defederalization of the Alabama National Guard.
THE ALABAMA National Guard was federalized and elements of it were sent to Tuscaloosa to prevent interference with orders of the United States District Court for the Northern District of Alabama. Consistent with the text of Executive Order No. 11111, responsibility for the maintenance of law and order on the campus of the University of Alabama continues to rest with local and State authorities.
Regretfully, it was necessary to send troops to Tuscaloosa to enforce the Court's orders. Maintenance of law and order, however, remains your legal and moral responsibility. I know you were opposed to the admission of the Negro students, but that is now passed. They are attending the University, and I would like to withdraw the troops as soon as possible. I am advised that Tuscaloosa has a small but excellent police force which, if backed by State law enforcement agencies, can maintain law and order in the Tuscaloosa area. It will be unfortunate if members of the Alabama National Guard now in Federal service are required to remain away from their homes and jobs for any extended period this summer. The duration of their duty is largely up to you. My responsibilities will require me to continue the present active status of the National Guard until I am advised by you or by local law enforcement officials that its presence is not required.
I have always felt that these matters should be handled by State and local authorities. I would think that the people of Alabama would rather have these responsibilities met by paid, experienced law enforcement officers than by federalized men of the Alabama National Guard. It is better for the people of Alabama and better for the National Guardsmen called to duty.

Therefore, I hope you will cooperate by doing all you can to take the necessary steps leading to the defederalization of the National Guard.
JOHN F. KENNEDY
[Honorable George C. Wallace, Governor of Alabama, Montgomery, Alabama]
John F. Kennedy, Telegram to Governor Wallace Concerning Defederalization of the Alabama National Guard. Online by Gerhard Peters and John T. Woolley, The American Presidency Project https://www.presidency.ucsb.edu/node/236701