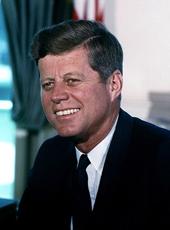 Telegram to Governor Wallace of Alabama.
IN RESPONSE to the question raised in your telegram of last night, Federal troops would be sent into Birmingham, if necessary, under the authority of Title 10, Section 333, Paragraph 1 of the United States Code relating to the suppression of domestic violence. Under this section, which has been invoked by my immediate predecessor and other Presidents as well as myself on previous occasions, the Congress entrusts to the President all determinations as to (1) the necessity for action; (2) the means to be employed; and (3) the adequacy or inadequacy of the protection afforded by State authorities to the citizens of that State.
As yet, no final action has been taken under this section with respect to Birmingham inasmuch as it continues to be my hope, as stated last night, "that the citizens of Birmingham themselves will maintain standards of responsible conduct that will make outside intervention unnecessary." Also, as I said last Thursday, in the absence of any violation of Federal statutes or court orders or other grounds for Federal intervention, our efforts will continue to be focused on helping local citizens to achieve and maintain a peaceful, reasonable settlement. The community leaders who worked out this agreement with a great sense of justice and foresight deserve to see it implemented in an atmosphere of law and order. I trust that we can count on your constructive cooperation in maintaining such an atmosphere; but I would be derelict in my duty if I did not take the preliminary steps announced last night that will enable this Government, if required, to meet its obligations without delay.
JOHN F. KENNEDY
[Honorable George C. Wallace, The Governor of Alabama, Montgomery, Alabama]
Note: Governor Wallace's telegram was not released by the White House.
John F. Kennedy, Telegram to Governor Wallace of Alabama. Online by Gerhard Peters and John T. Woolley, The American Presidency Project https://www.presidency.ucsb.edu/node/236289