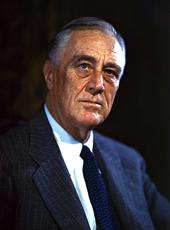 Telegram to Chicago Mayors' Conference Requesting Support of the P.W.A. Program.
May I send through you my personal greetings to the Mayors who are now assembled in Chicago? I hope that during your deliberations you will consider carefully the relationship of your municipalities to the recovery program of the Government. As you know, Congress appropriated three billions three hundred millions of dollars to finance a comprehensive program of public works. Approximately one billion six hundred millions of dollars have already been allocated out of this fund, mainly for Federal projects. The reason for these earlier allocations for Federal projects is easy to understand. Most of them had already been planned. The Federal Government was prepared to undertake them speedily and the projects themselves were widely scattered throughout the country. Moreover, funds could be allocated for Federal projects while the municipalities were preparing to submit local projects for the consideration of the Public Works Administration. We are at the point now where all municipalities that are interested in municipal projects and which want to cooperate to the fullest possible extent in the recovery program should come forward with their proposals. I want to assure you that after your projects have been passed upon by the State Advisory Boards and forwarded to Washington they will be acted upon here with a minimum of delay.
While no definite sum has been set up for allocation for State and municipal projects we have in mind approximately one billion seven hundred millions of dollars for that purpose. This amount is available for bridges, viaducts, water works, sewage disposal plants, schools, hospitals, penal institutions, municipal power plants and other works that may be desirable and necessary. We will match speed on your part with speed on ours. I wish you success in your deliberations and I especially hope that they will result in a stimulation of interest all along the line in our public works program.
Hon. James M. Curley,

Chicago, Illinois
Franklin D. Roosevelt, Telegram to Chicago Mayors' Conference Requesting Support of the P.W.A. Program. Online by Gerhard Peters and John T. Woolley, The American Presidency Project https://www.presidency.ucsb.edu/node/208954