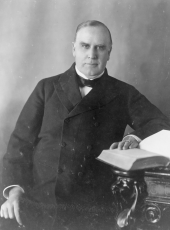 Telegram to Chairman Marcus A. Hanna of the Republican National Committee on the Results of the Presidential Election
The people in their majesty, ignoring party lines, have declared their detestation of repudiation and dishonor in whatever specious guise they may be presented. They have with the same mighty power affirmed their devotion to law and order and their undeviating respect for justice and the courts. They have maintained their unfaltering determination to support and uphold the constituted authorities of the country and have thereby given new vigor and strength to our free institutions. They have indeed again consecrated themselves to country and baptized the cherished ordinances of free government with a new and holy patriotism.
The victory is not to party or section, but of and for the whole American people. Not the least of the triumphs of the election is the obliteration of sectional lines in the republic. We have demonstrated to the world that we are a reunited people in purpose as in name. We have manifested in the great cause the spirit of fraternity and brotherhood that should always characterize our common and equal citizenship and have proved conclusively that in a country of equal privileges and equal opportunities the insidious doctrine of hate or of class or sectional distinctions cannot prevail.
Let us, as Americans, straightway devote ourselves to the upbuilding of America, to the peace, honor and glory of our common country. Party dissensions should no longer divide or rack the public mind, nor the zeal or temper of either side deter any citizen from patriotic devotion to the good of all.
Source: The Bankers' Magazine, Volume LIII, May-December 1896, p. 599.
William McKinley, Telegram to Chairman Marcus A. Hanna of the Republican National Committee on the Results of the Presidential Election Online by Gerhard Peters and John T. Woolley, The American Presidency Project https://www.presidency.ucsb.edu/node/345942