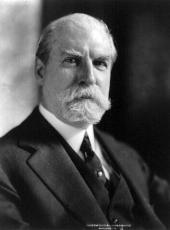 Telegram Accepting the Republican Nomination for President
Mr. Chairman and Delegates:
I have not desired the nomination. I have wished to remain on the bench. But in this critical period of our national history I recognize that it is your right to summon and that it is my paramount duty to respond. You speak at a time of national exigency transcending merely partisan consideration.
You voice the demand for a dominant, thorough-going Americanism, with firm, protective upbuilding policies essential to our peace and security, and to that call, in this crisis, I cannot fail to answer with the pledge of all that is in me to the service of our country. Therefore I accept the nomination.
I stand for the firm and unflinching maintenance of all the rights of American citizens on land and sea. I neither impugn motives nor underestimate difficulties. But it is most regrettably true that in our foreign relations we have suffered incalculably from the weak and vacillating course which has been taken with regard to Mexico, a course lamentably wrong with regard to both our rights and our duties. We interfered without consistency; and, while seeking to dictate when we were not concerned, we utterly failed to appreciate and discharge our plain duty to own citizens.
At the outset of the Administration the high responsibilities of our diplomatic intercourse with foreign nations were subordinated to a conception of partisan requirements, and presented to the world a humiliating spectacle of ineptitude. Belated efforts have not availed to recognize the influence and prestige so unfortunately sacrificed; and brave words have been stripped of their force by indecision.
I desire to see our diplomacy restored to its best standards, and to have these advance; to have no sacrifices of national interests to partisan expediency; to have the first ability to the country always at its command, here and abroad, in diplomatic intercourse; to maintain firmly our rights under international law, insisting steadfastly upon all our rights as neutrals, and fully performing our international obligations; and, by the clear correctness and justice of our position and our national ability and disposition to sustain them, to dignify our place among the nations.
I stand for an Americanism which knows no ulterior purpose, for a patriotism which is single and complete. Whether native or naturalized, of whatever race or creed, we have but one country and we do not for an instant tolerate any division of allegiance.
I believe ill making prompt provision to assure absolutely our national security. I believe in preparedness, not only entirely adequate for our defense with respect to numbers and equipment, in both army and navy, but with all thoroughness to the end that in each branch of the service there may be the utmost efficiency under the most competent administrative heads. We are devoted to the ideals of honorable peace. We wish to promote all wise and practicable measures for the just settlement of the international disputes.
In view of our abiding ideals, there is danger of militarism in this country. We have no policies of aggression, no lust for territory, no zeal for strife. It is in this spirit that we demand adequate provision for national defense, and we condemn the inexcusable neglect that has been shown in this matter of first national importance. We must have the strength which self-respect demands, the strength of an efficient nation ready for every emergency.
Our preparation must be industrial and economical as well. Our severest test will come after the war is out. We must make a fair and wine readjustment of the tariff, In accordance with sound protective principle, to insure our economic independence and to maintain American standards of living. We must conserve the best interests of labor, realizing that in democracy patriotism and strength must be rooted in even-handed justice. In preventing, us we must, unjust discrimination and monopolistic practices, we must still be zealous to assure the foundations of honest business. Particularly should we seek the expansion of foreign trade. We must not throttle enterprise, here or abroad, but rather promote it and take pride in honorable achievements.
We must take up the serious problems of transportation, of interstate and foreign commerce, in a sensible and candid manner, and provide an enduring basis for prosperity by the intelligent use of the constitutional powers of Congress, so as adequately to protect the public on the one hand, and, on the other, to conserve the essential instrumentalities of progress.
I stand for the principles of our civil service laws. In every department of government the highest efficiency must be Insisted upon. For all laws and programs arc vain without efficient and impartial administration.
I cannot within the limits of this statement speak upon all the subjects that will require attention. I can only say that I fully indorse the platform you have adopted.
I deeply appreciate the responsibility you impose. I should have been glad to have that responsibility placed upon another. But I shall undertake to meet it, grateful for the confidence, you express. I sincerely trust that all former differences may be forgotten, and that we may have united effort in a patriotic realization of our national need and opportunity.
I have resigned my judicial office and I am ready to devote myself unreservedly to the campaign,
CHARLES E. HUGHES.
APP Note: Justice Charles E. Hughes sent this telegram to Chairman Harding of the Republican National Convention assembled in Chicago.
Source: American Economist, June 16, 1916. Crosschecked with excerpts published in The Washington Post, Chicago Daily Tribune, and New York Evening World.
Charles E. Hughes, Telegram Accepting the Republican Nomination for President Online by Gerhard Peters and John T. Woolley, The American Presidency Project https://www.presidency.ucsb.edu/node/302341