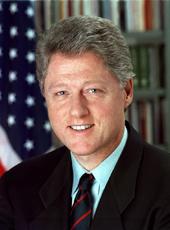 Teleconference Remarks to Broadcasters Associations
Thank you, Marcy. Good morning to you and to the hundreds of distinguished members of the broadcast journalism industry gathered there with you. I'm honored to help kick off the very first joint undertaking of the Radio Television News Directors Association and the National Association of Broadcasters Radio.
You know, I've talked a lot about building new partnerships all over America; I must say that after the last 20 months I never expected it would be the journalists who would be the first to take me seriously. But I'm glad you're leading the way.
I've had the chance to review the ambitious agenda you've had for this week—discussing issues involving programming, ethics, technology, marketing—in one of the most dynamic industries on Earth. I applaud you for accepting these challenges as well as for the decades of leadership in your industry. I know Reed Hunt, our Chairman of the FCC, will join many of you soon for an in-depth discussion of these and other issues.
I'm delighted that you're honoring Charles Kuralt with the Paul White Award for lifetime achievement. I've admired him for a long time. "On The Road" was a true celebration of the unsung heroes and the enduring values of America. I'm told he got the idea for the show one night when he was on a plane looking down at the lights below. He said he thought the following: "There are a lot of Americans who don't live in cities and don't make headlines. I was interested in finding out about them." Well, for most of my life I was one of them, and I'm proud that Charles Kuralt found out so much about them. He taught us about the steadiness and the joys of daily life that are so often masked by the daily headlines.
Before I get into the body of my remarks today, I'd like to give you an update on the situations in the Persian Gulf and Haiti. First, let me say how very proud I am of the men and women of our Armed Forces who are serving in both areas. We've asked an awful lot of them, and they're delivering with great skill and professionalism. They are the power behind our diplomacy.
Last week, in the face of Iraq's threatening troop movements on the Kuwaiti border, I ordered the deployment to the Gulf of an aircraft carrier battle group, cruise missile ships, Marine and Army troops, and several hundred attack aircraft. Our policy is clear: We will not allow Iraq to threaten its neighbors or to intimidate the United Nations as it ensures that Iraq never again possesses weapons of mass destruction.
I'm pleased to say that Iraq heard our message. Its forces have begun a broad retreat from the border area. Only a few Republican Guard units remain in southern Iraq, and they are withdrawing, too. But the withdrawal is not yet complete, and it's too soon to say where all the troops are going. So we're watching the situation very, very carefully, and we'll continue to deploy our forces in the Gulf until we're satisfied that Iraqi troops no longer pose an immediate danger to Kuwait.
At the same time, Ambassador Albright has proposed a very strong resolution in the United Nations to prevent Iraq from threatening its southern neighbors now or in the future. We're working closely at the Security Council to win broad international support for that resolution.
Now let me add a few words about Haiti. Our troops went there to keep a solemn commitment by the United States and the international community to restore the nation's democratically elected government and to help bring an end to terrible human rights problems. We're keeping that commitment.
I'm pleased to say that General Cedras and his closest followers have arrived in Panama. On Saturday, President Aristide will return home to resume his rightful place. Haiti's remarkable journey from fear to freedom continues. And given the outstanding performance of our troops there and in Iraq and elsewhere, we should be confident of our ability to rise to the new challenges we surely will be called upon to meet.
You know, I came to Washington 20 months ago to try to really change this country, to change the direction in which we were going and the attitude we had about our present and our future. Quite simply, I wanted to move the country forward and bring it together so that we could compete and win in the 21st century and so that every one of us could live up to the fullest of our God-given capacities.
In the last 20 months, we followed a disciplined strategy to try to create more jobs, bring the deficit down, improve education and training, invest in new technologies, assist the conversion from a defense to a commercial economy, reach out to the rest of the world and have more trade and more peace and security, help the American people at home by having the Government work for ordinary people again.
In short, what I offered the American people was not a set of gifts or promises but a real challenge and the opportunity to take responsibility for their own lives, if we had the courage to make the changes on the difficult issues that we had ignored for years and years and years.
I knew we were facing a big task. We'd had, after all, 30 years of serious social problems relating to the breakdown of communities, neighborhoods, families, the rise of crime and drugs and violence and gangs. We've had 20 years of serious economic problems for working people, where most hourly wage earners have had no gain in wages, even though the cost of living has gone up. We had 12 years of a different theory of how we ought to deal with these problems, the trickle-down Reaganomics years in which from my point of view we were making things worse, not better.
Well, after 20 months, we've made a good beginning. We passed an economic plan that brought the deficit down at a record rate with $255 billion of spending cuts, a tax increase in the rates on 1.2 percent of our people, tax breaks for 15 million working families who work for modest wages and raise children and shouldn't be in poverty if they're working. That economic plan, along with our aggressive trade strategies with NAFTA, GATT, and other areas, has helped to bring our economy back, and we've got 4.6 million more jobs now than we did 20 months ago. We've had more high-wage jobs come into this economy in the last year than in the previous 5 years combined. We've had 9 years of manufacturing job growth for the first time in a decade. The annual vote of international economists said that America is now the most productive country in the world for the first time since 1985. So we're making a good beginning.
We've taken a serious stand against crime with the passage of the Brady bill and the crime bill which will increase police on the street by 20 percent, build 100,000 prison beds for serious offenders, stiffen punishment, ban assault weapons, and provide prevention funds to give our young people another chance to avoid a life of crime.
And we've begun to make Government work for ordinary people again, literally to empower them to take responsibility for their own lives. That's what the Family and Medical Leave Act was all about. Most people are workers and parents; they ought to be able to succeed as both. That's what expanding Head Start so 200,000 more children can be enrolled is all about. That's what providing immunizations for 2 million children so that all our kids under the age of 2 will be immunized by 1996 is all about. It's what a national network of apprenticeships for young people who graduate from high school and don't go to college but do want good jobs is all about. It's what the college loan reform is all about, making 20 million young Americans eligible to refinance their college loans at longer repayment terms and lower interest rates. And it's what our reinventing Government effort, spearheaded by the Vice President, is all about.
We worked very hard to reduce the size of the Federal Government, to slash regulations, to provide more flexibility to local government. Just in the last few days, I signed a banking reform bill which will reduce compliance with Federal regulations by a billion dollars. We signed the trucking deregulation bill which will save another $8 billion. When California had its earthquake, we changed the way we rebuilt roads in ways that cut the time for rebuilding the Nation's busiest freeway by more than half. These are the kinds of things we're trying to do to literally reinvent the way Government works. Today the Small Business Administration can give you a loan application that's only one page long, and you can get an answer, yes or no, within 3 days.
One of the most important things we've had to do is to face the mind-boggling difficulty of procurement reform. That's what you know when you think about the $500 coffee pot bought by the Pentagon or the $4 stapler that costs $50 in paperwork to procure. The bureaucracy that was supposed to shrink in the last decade instead grew like Godzilla. Eliminating these kinds of abuses and excesses has been in my plan since the day I came to Washington.
You'll all remember the Vice President going on the David Letterman show to try to break the ashtray and show you how incredible the regulations were there. That's just one of thousands of examples of things we have to change to rebuild the confidence of the American taxpayers that we're spending their money wisely and also to empower Federal employees to give their taxpayers good value for the dollar.
Well, today at the White House I've taken a series of very important steps toward that goal, and I want you to hear about them. First and foremost, I signed today a bill to completely restructure the way Government buys $200 billion worth of goods and services every year. It's called the Federal Acquisition Streamlining Act of 1994.
Let me try to put this again in larger context. Everything we're trying to do here has been about making Government work better for ordinary people, giving taxpayers the value they deserve, empowering people to live up to the fullest of their potential. We cannot do that until the Government spends taxpayer money wisely and responsibly. We have to do better. We don't have the time or the money now to waste on bad government. And the place to start making Government work better is to cut it to an effective size and at the same time to make it more efficient so that we can do more with less.
The Vice President's done a very good job in leading this fight. We're cutting the Federal work force by 272,000 people. We've already reduced it by more than 70,000. And when we finish, the Federal work force will be smaller than at any time since President Kennedy served. We're taking the savings and we're giving it all back to our local communities to fight crime.
We're also insisting that Government institute the same kind of management reforms that have made the private sector more productive and competitive in recent years. And I'm proud to say that's working. Financial World magazine just published an open letter to me in which they said, "We think you're making real progress. We've taken a close look at 10 of your major executive branch departments and agencies to see how well they're managed, and we can report that most of the 10 agencies have improved under your stewardship." Now, like all change, this has not been easy, and a lot of times it occurs in smaller steps that are easy to overlook when they do occur.
When I took office, this Government was literally riddled with rules and regulations that made absolutely no sense. Let me give you one example. In the midst of the Gulf war, our troops couldn't buy two-way Motorola radios they badly needed because Motorola didn't keep detailed enough books to meet the procurement regulations. No sensible company in the international marketplace would have done what it took to meet these regulations. So what happened? The Japanese had to buy them for us. It was pretty embarrassing. Today the historic law I signed will ensure that this never happens again. The chairman of Motorola wrote me a letter saying that we could buy his products now, and we'd be buying a lot more things at lower cost with better value.
This law eliminates a great deal of the redtape in the Federal procurement system. For the first time, the Government will be able to shop off the shelf for the best values they can find, just like everybody else. In short, $500 coffeepots or $600 toilet seats, the $50 ashtrays, all these things, as a matter of Government policy, are history.
In addition, this reform will cut out the excessive need for separate industries, one for civilian products and one for defense products. That will help to diversify our economy. It will allow defense industries to compete and win in the global marketplace. The world is still a very dangerous place, and this procurement reform ensures that our fighting men and women will have the highest quality weapons and equipment they need, while encouraging the same companies to compete in commercial enterprises.
This morning I also signed two other measures to cut the size of Government and improve its operations. One bill reorganizes the Department of Agriculture. It closes or combines 1,200 unnecessary offices, reduces the number of divisions in the Agriculture Department by a third, and reduces employment by over 7,500. The Secretary of Agriculture and all those who worked on this deserve a lot of credit for this important step forward.
The other bill requires the Government to publish a complete financial statement every single year for every executive branch agency. Believe it or not, complete consolidated financial statements weren't required before this.
Finally, I'd like some help from you and others to get another change or two along this line. Congress has just passed two spending bills that protect several agencies from the personnel cuts that have to be made in order for us to meet the reinventing Government target of 270,000 and to fund the crime bill. So today I'm asking that Congress get rid of these restrictions on our ability to cut back big Government. This is a matter of principle. No agency anywhere should be exempt from doing its job as efficiently as possible.
The American people deserve a Government that works. For most Americans, good Government means a timely Social Security check or better police protection or a tax burden that doesn't suffocate them. Democracy means little to them if it can't meet these basic needs except with a Government that costs too much or is too big or too slow or too unresponsive. We can, we must do better, and we are doing better. It's a part of bringing America back, restoring economic growth, making a serious assault on crime, making Government work for ordinary people again, having a Government that does more with less.
I'd like to close on this note. More than 30 years ago, President Kennedy addressed the members of the Radio TV News Directors Association. About that time, he said this about the press: "Even though we never like it and even though we wish they didn't write it and even though we disapprove of it, there isn't any doubt at all that we could not do the job in a free society without a very, very active press." The fundamental truth is that for all the profound changes that have taken place in world affairs, technology, and markets, his words are still as accurate as they were on the day he said them.
Every day, the national dialog that helps to sustain our freedoms is begun by you. Every day I have the opportunity to discuss the work we're doing directly with the people we're doing it for because of you. We share fundamental ideals for a free and open society where all can reach their God-given potential and pursue the American dream.
I wish you the best of luck this week and in the months ahead. These are exciting and challenging times, and I think we should enjoy them together. Yes, there are problems, but nothing, nothing we cannot face if we roll up our sleeves, pull together, and look to the future.
Now, Marcy, I'll turn it back to you with a warm thank-you to all of you for the opportunity to speak with you today. Thank you very much.
NOTE: The President spoke at 12:37 p.m. by satellite from Room 459 of the Old Executive Office Building to the Radio Television News Directors Association and the National Association of Broadcasters NAB Radio Show, meeting in Los Angeles, CA. In his remarks, he referred to Marcy Burdick, chair, Radio Television News Directors Association.
William J. Clinton, Teleconference Remarks to Broadcasters Associations Online by Gerhard Peters and John T. Woolley, The American Presidency Project https://www.presidency.ucsb.edu/node/218587