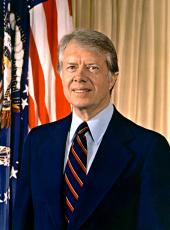 Taiwan Relations Act Statement on Signing H.R. 2479 Into Law.
I am today signing into law H.R. 2479, the Taiwan Relations Act. This legislation will enable the American people and the people on Taiwan to maintain commercial, cultural, and other relations without official Government representation and without diplomatic relations.
The act contains all of the authority that I requested in order to enable us to maintain such unofficial relations with the people on Taiwan. It authorizes the American Institute in Taiwan, a nongovernmental entity incorporated under the laws of the District of Columbia, to conduct these relations. Similarly, the people on Taiwan will conduct relations through a nongovernmental organization, the Coordination Council for North American Affairs.
The act is consistent with the understandings we reached in normalizing relations with the Government of the People's Republic of China. It reflects our recognition of that Government as the sole legal government of China. Having normalized relations with China in the spirit of the Shanghai Communiqué, I look forward in the coming years to a deepening and broadening of U.S.-China relations which will contribute to the welfare of our two peoples and to peace in the world.
I wish to express my appreciation to the Congress for the speed and diligence with which it has acted. I believe a different treatment of the issue of diplomatic properties belonging to China would have been preferable, and my action today is without prejudice to any subsequent adjudication of the legal status of these properties. In most respects, however, the Congress and the executive branch have cooperated effectively in this matter.
In a number of sections of this legislation, the Congress has wisely granted discretion to the President. In all instances, I will exercise that discretion in a manner consistent with our interest, in the well-being of the people on Taiwan, and with the understandings we reached on the normalization of relations with the People's Republic of China, as expressed in our Joint Communiqué of January 1, 1979, on Establishment of Diplomatic Relations.
Note: As enacted, H.R. 2479 is Public Law 96-8, approved April 10.
Jimmy Carter, Taiwan Relations Act Statement on Signing H.R. 2479 Into Law. Online by Gerhard Peters and John T. Woolley, The American Presidency Project https://www.presidency.ucsb.edu/node/249776