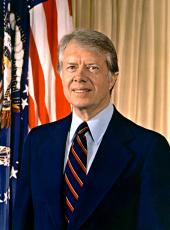 Tacoma, Washington Remarks to Employees at the Continental Grain Terminal.
Thank you, my good friend Marvin Williams.
It is great to be in Washington—the real Washington, that is—and to see your beautiful weather, which I understand you have 365 days a year. Right? That's what they told me in the car on the way out. As a farmer myself, as a businessman and a former professional naval officer, and now as President of our country, it's indeed a pleasure and a pride for me to come here to this beautiful facility. I'm also happy to join your next Governor, Jim McDermott, who's with me this afternoon, and to express my deep thanks to Scoop Jackson for those kind words.
This morning on the way from Los Angeles to San Jose, I called Dixy Lee Ray to express my appreciation and admiration for her, to let her know how much I appreciated what she has done in the past with the Mount St. Helens explosion and all the other difficulties that an incumbent must face. A few minutes ago, after we left Portland, we got permission from the air controllers, after my request was recognized, to fly over Mount St. Helens. It was a remarkable sight. The destruction and devastation there are truly awe-inspiring, and the contribution that all of you made to stability and to keeping your wits about you and to facing :he future with confidence in one another and with a sense of unity indeed was a pleasure for me as President and an honor, I think, for our country.
I'm also here to salute two of Washington State's most important products-grain and Warren Magnuson. Maggie has one a lot for this State and also for this Nation, and as you know, now being chairman of the Appropriations Committee for the Senate, he has the power and the influence to do a lot more in the future. The appropriations legislation, at this moment, to finance all the functions of the United States Government is being debated and considered by the Congress. Senator Magnuson is in charge. He and I agreed yesterday in a telephone conversation that he ought to stay there in the Senate, not just for this crucial week but for 6 more years.
I'm here today, not by accident, but to call attention to the whole Nation to what has been truly the great wonder of the world, and that is American agriculture. It's a wonder of Providence what God has given us, with productive land and with innovative producers as stewards to care for that land and to strengthen our Nation in every possible way. It's a wonder of man's hard work to produce. And I think that you know that this grain elevator behind me—this terminal—is now loading more grain than it ever has since it was first built. It's a wonder of American industry and experience and knowledge.
Since I became President, United States farm exports have set new world records in 1977, in 1978, in 1979, and again in 1980. And this year we're going to set—we're going to break every record that's ever been set in American agriculture. In 1980, as a matter of fact, U.S. farm exports will reach $40 billion, up $8 billion above last year—the greatest 1-year increase in history. And today American agricultural strength, as you know, is unsurpassed throughout the world.
We're by far the world's largest agricultural exporter. We account for 60 percent of the world's grain exports, 80 percent of the world's soybean exports. These startling figures, almost too high to believe, continue to improve every year. To paraphrase Winston Churchill, never in history have so many been fed by so few. Our success in exporting U.S. farm products is a direct result of aggressive sales and promotion by representatives of the American farmers, producers, shippers, and the Government and of completing a multilateral trade negotiation, within the last few months approved by Congress, which opens up new opportunities for us to sell all kinds of American products with a minimum of interference all over the world.
In addition, a great benefit to every person listening to my voice, to your families now and in the future, has been the normalization of relationships between our Nation and the People's Republic of China. This is a major step forward in preserving peace throughout the Pacific region and the Asian region. It's a major step forward in diplomacy, and it's a major step forward in trade, giving Americans jobs now and in the future. A billion new friends, a billion new consumers, a billion eager buyers for all kinds of American products are now available to us because of those normalized relationships. And I might add parenthetically that our relationship with Taiwan has not suffered at all. Our trade with Taiwan at this moment is at an alltime high.
The ship behind me will be carrying American corn to Japan. We've opened up trade offices to sell American products in major buying centers throughout the world. We've increased export credits to let sellers of American grain finance those sales on a sound basis to foreign buyers. And we've improved grain inspections, Federal and State grain inspections, to make sure that when customers do buy American grain, they get the highest possible quality and come back again and again to make additional purchases.
I'm not only the President, but I'm also the Commander in Chief of our Armed Forces. I want to make sure our Nation is strong. And therefore I would like to certify to you that we need to have a strong American merchant marine fleet to help us to deliver agricultural and other products abroad, and I'm committed to ensuring that we have such a fleet now and in the future.
Sometimes we Americans take our abundance for granted. It's human nature to complain about things if they are not absolutely perfect. But I think during this election year it's a good time for us to stop and say, "What has God done for us?"-not only freedom, not only a chance to make our own voices heard, not only a chance to be world leaders in raising high the banner of human rights and letting democracy and our way of life be known about throughout the world. Sometimes we take these basic rights for granted.
Events recently in Poland, for instance, and our careful, considered, proper response to those moves toward freedom have helped to remind us of our own basic rights. Recently I directed the U.S. Department of Agriculture to extend $670 million in new agricultural credit assistance to Poland. This is the largest such assistance in the history of our country. It means that American farmers will provide some 4 million tons of grain and other farm products to the people of Poland. This demonstrates not just the power of our agriculture but the power of our commitment to human rights around the world.
You've benefited greatly in this particular region from the advances that we have made in the last 3 1/2 years. Since January of 1977, in spite of some setbacks because of the unprecedented increase in world oil prices, unemployment in the State of Washington has gone down 17 percent. In Tacoma City unemployment has gone down, measured up to last month, by 27 percent. Employment in Tacoma, in the metropolitan area, has gone up 20,000 new jobs, and of course, employment in the whole State of Washington has gone up 26 percent in just 3 1/2 years.
When we overcome, which we are doing very rapidly, the adverse impact, the damage that was done to our economy by seeing the price of oil jump 120 percent in 1 year, the chances for a better life for all Americans in the years to come are obvious to us. We need to look to the future, to have confidence in the greatness of our country, pull ourselves together in a spirit of unity and conviction and also anticipation and hope, and realize that we can make the greatest nation on Earth, with which we have been blessed, even greater in years to come. If you'll help me, I'll help you make that dream come true.
Thank you very much.
Note: The President spoke at 4:56 p.m. outside the Continental Grain Terminal after touring the facility.
Jimmy Carter, Tacoma, Washington Remarks to Employees at the Continental Grain Terminal. Online by Gerhard Peters and John T. Woolley, The American Presidency Project https://www.presidency.ucsb.edu/node/251627