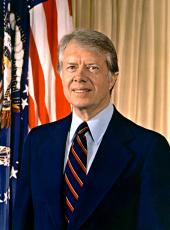 Swearing-In Ceremony Remarks at the Swearing In of the Administrator of the Agency for International Development and the Special Representative lot Trade Negotiations.
Good morning, everybody.
We have another very important occasion for our country and, I think in this instance, in a unique way for the rest of the world.
I have had a chance to know both these men for a number of years. I met Jack Gilligan when he and I were both elected as Governors. He's an educator. He's a man who served well at the local and State levels of government. And I have said many times--I don't think ever when he was present--that when I had a chance to work with the other 49 Governors that he was the best one of all in dealing with a complicated subject, demonstrating superb management capability, and having a sensitivity about the needs of human beings. And now it's time for him to be permitted to serve at the national and the international levels of government.
Our country is one that is humane and compassionate about the needs of suffering people here and throughout the world. At the same time, many people have been discouraged in the last number of years that the good intentions of our Government in providing help to those who need it quite often are not carried out in the delivery of opportunities to people to have medical care and food and a chance to live a decent life.
There are about, I think, 6,000 employees involved in our AID program around the world, and I believe that Jack Gilligan has a unique capability of bringing to this bureaucratic entity, which is crucial, proper management techniques that will let the delivery of services be efficient and, more importantly, effective, and maintaining a good relationship with the Congress where he served so well, and also letting the rest of the world know the true character of our country.
So, I am very proud that Jack Gilligan will be the director of our AID program. He has been working on this job quite extensively for the last number of weeks, learning about it, studying it, and I am sure that he will make the Nation proud as he takes on this new and very important assignment.
The other man I have also known a long time. He's well prepared for one of the most difficult jobs in Government. When this post of Special Trade Representative was created by the Congress, it was created at the Cabinet level and that indicates the importance attached to it by the people of our Nation.
This is probably the second most difficult assignment that I know about. The most difficult one was bringing order out of chaos and bringing harmony within the Democratic Party in the last 4 years. [Laughter]
And if ever anyone has been to the crucible of training for a very difficult negotiating job, Bob Strauss has been. I have pretty well taken care of most of the important responsibilities of his job. I have already handled mushrooms. And all he has got to worry about now is shoes and color televisions and sugar and a few other incidentals like that, but I am sure he is well qualified for it.
Again, Bob Strauss has a special insight into the business world. He has worked well with labor. He is acquainted with international trade. He has a knowledge of the workings of the executive and the legislative branches of our Government. He'll be able, I think, to present to other countries an accurate representation of what our Nation can do in resolving an almost irresolvable conflict between protecting the jobs of American workers and having a strong economy here on the one hand, and not having restrictive import rulings or decisions that would bring the whole world trade concept in a constantly declining circumstance.
This is a very difficult question to address. And he and I together, the other members of our executive branch of Government, and the Congress will be trying to deal with this question in the months ahead.
But I have complete confidence in him, and with Helen to give him good advice I am sure that he will succeed in this as well as he has in his past endeavors.
So, it's a good day for our country, to have Bob Strauss as Special Trade Representative and Jack Gilligan as director of our AID program. I am very proud of them and grateful to them.
And I want to congratulate them and the people of our country for this fine acceptance on their part of a major and very important responsibility.

Thank you, Bob. Thank you, Jack.
Now the Attorney General will administer the oath.
Note: The President spoke at 9:30 a.m. in the Rose Garden at the White House. Following his remarks, Attorney General Griffin B. Bell administered the oath of office.
Jimmy Carter, Swearing-In Ceremony Remarks at the Swearing In of the Administrator of the Agency for International Development and the Special Representative lot Trade Negotiations. Online by Gerhard Peters and John T. Woolley, The American Presidency Project https://www.presidency.ucsb.edu/node/243469