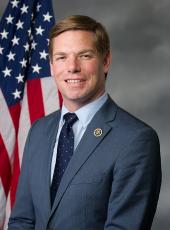 Swalwell Campaign Press Release - Vikki Brown to Chair Eric Swalwell's Iowa Campaign
AMES, IA – 2020 Democratic presidential candidate Congressman Eric Swalwell announced Thursday that Vikki Brown – chairwoman of the Black Hawk County Democrats – will chair his Iowa campaign.
"Vikki's inspiring years of service to her community and the Democratic Party have made Iowa a better place, and I'm deeply honored to have her support as we go big, be bold, and do good to bring the promise of America to all Americans," Swalwell said. "Her wisdom and energy will be valuable assets to our campaign."
Brown, of Waterloo, has chaired the Black Hawk County Democrats since 2017. Under her leadership, the committee has succeeded in winning multiple highly competitive election victories including a Congressional seat, an Iowa state senate seat, and an Iowa state house seat.
She was inducted into the Iowa Democratic Party Hall of Fame in 2017, where she received the Minnette Doderer Award of Outstanding Leadership. This January, she received the National Action Network Community Service Award, and in March she received the Emerge Iowa 2019 Dawn Local Elected Official Award.
Retired since 2006, Brown – a mother of three daughters and grandmother of three – feels a personal commitment to democratic values and making a positive impact in her community.
"Eric Swalwell was born in Iowa, he knows Iowa, and he's determined to act on the issues that Iowans care most about," Brown said. "He's the best choice Iowans have in this Democratic primary, and I'm eager to get started spreading the word."
Growing up in Birmingham, AL, Brown would sneak out despite her mother's concerns to march for civil rights justice. She has been a staunch supporter of Democratic candidates since the 1970s, when she worked on mayoral and gubernatorial campaigns in Michigan.
She has been a Black Hawk County precinct captain and has served and volunteered on several city, county, state, and national Democratic campaigns, including President Obama's Inaugural Committee in 2008 and 2012. She also served on Waterloo Mayor Quentin Hart's successful 2015 and 2017 campaigns. In 2016 she was the Eastern Iowa African American Outreach Coordinator for Hillary Clinton's presidential campaign, and she represented Iowa as Ambassador at the 2016 Democratic National Convention.
Swalwell, 38, now serving his fourth term in Congress, announced his presidential candidacy Monday night on CBS' "The Late Show with Stephen Colbert." The announcement kicked off a 10-day national sweep with events in Florida, Iowa, South Carolina, California, Nevada, and New Hampshire.
Eric Swalwell, Swalwell Campaign Press Release - Vikki Brown to Chair Eric Swalwell's Iowa Campaign Online by Gerhard Peters and John T. Woolley, The American Presidency Project https://www.presidency.ucsb.edu/node/365154