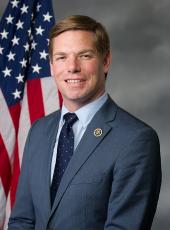 Swalwell Campaign Press Release - Eric Swalwell Declares Candidacy for President of the United States
DUBLIN, CA – Congressman Eric Swalwell is a candidate for President of the United States.
Swalwell, an Iowa native now serving his fourth term representing California's 15th Congressional District, announced his candidacy Monday night on CBS' "The Late Show with Stephen Colbert." The announcement kicks off a 10-day national sweep with events planned in Florida, Iowa, South Carolina, California, Nevada, and New Hampshire.
"I've been in Congress for six years. I see an America in quicksand, making zero progress on anything that matters. I hear from school children who are learning in fear because too many lawmakers love their guns more than they love our kids," Swalwell said. "We can no longer count on the same old people to solve the same old problems. Nothing will change until we have a leader who is willing to go big on the issues, be bold with solutions, and do good in governing."
"So we will go big, be bold, do good, to bring the promise of America to all Americans. The promise is a simple one: if you work hard, your blood, sweat, and tears should add up to you doing better for yourself and dreaming bigger for your kids. That's why I'm running for President."
Swalwell, 38, is co-chair of the House Democratic Steering and Policy Committee; founder and chairman emeritus of Future Forum, House Democrats' millennial engagement group; chairman of the Intelligence Modernization and Readiness Subcommittee of the House Permanent Select Committee on Intelligence; and a member of the House Judiciary Committee.
He's the eldest of four sons of a retired police officer and a senior administrative assistant, the first in his family to go to college, and a former prosecutor and city councilman. He and his wife, Brittany, have a son, Nelson, and a daughter, Cricket.
The itinerary for the next 10 days includes:
TUESDAY, APRIL 9: SUNRISE, FL
6:00pmET-7:00pmET – Town Hall to End Gun Violence with Parkland-area families, BB&T Center, 1 Panther Parkway, Sunrise, FL 33323. (Please enter at Gate 5, turn right into Parking Lot B16, and enter the building via the patio next to the box office.)
THURSDAY, APRIL 11: AMES, IA
6:00pmCT-8:00pmCT – Town Hall, Gallery Meeting Room at Iowa State University Memorial Union, 2229 Lincoln Way, Ames, IA 50011
8:30pmCT-9:30pmCT – Politics in the Pub, Torrent Brewing Company, 504 Burnett Ave., Ames, IA 50010
FRIDAY, APRIL 12: GREENVILLE, SC
6:00pmET-7:00pmET – Town Hall, West End Community Development Center, 404 Vardry St, Greenville, SC 29601
SUNDAY, APRIL 14: DUBLIN, CA
2:00pmPT-4:00pmPT – Kickoff Rally at Dublin High School, 8151 Village Pkwy, Dublin, CA 94568
MONDAY, APRIL 15: LAS VEGAS, NV
6:30pmPT-7:30pmPT – Town Hall with the UNLV Young Democrats, UNLV Student Union, Phillip J. Cohen Theatre, 4505 S. Maryland Parkway, Las Vegas, NV 89154
THURSDAY, APRIL 18: SOUTH HAMPTON, NH
5:30pmET-7:00pmET – Meet and greet with Democrats in the Four Town Coalition of East Kingston, Kensington, Newton, and South Hampton, Jewell Towne Vineyards, 183 Whitehall Road, South Hampton, NH.
Eric Swalwell, Swalwell Campaign Press Release - Eric Swalwell Declares Candidacy for President of the United States Online by Gerhard Peters and John T. Woolley, The American Presidency Project https://www.presidency.ucsb.edu/node/365153