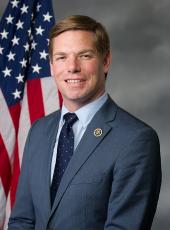 Swalwell Campaign Press Release - Congressman Ruben Gallego to Serve as National Chair of Swalwell of America
DUBLIN, CA – Congressman Ruben Gallego will serve as campaign chairman of Congressman Eric Swalwell's 2020 presidential campaign.
Gallego, 39, is serving his third term representing Arizona's 7th Congressional District. He is the son of Hispanic immigrants, a U.S. Marine Corps combat veteran, and a community leader. Swalwell announced Gallego's campaign role Sunday at a campaign kickoff rally in Dublin, CA.
"Ruben Gallego's entire life has been defined by hard work. He knows why people work hard, and that the payoff has to be that it adds up to doing better for yourself and dreaming bigger for your kids," Swalwell said. "His service and leadership embody our campaign's theme to go big, be bold, and do good.
"Ruben has served our country as both a Marine in Iraq and as the first Colombian-American Member of Congress," Swalwell noted. "As the first in both our families to go to college, he and I have traveled the country together seeking to make college affordable for the next generation. As two young dads, we babysit for each other's kids, and share ideas on how to make child care and health care more affordable. Ruben is a dear friend, and I'm honored to have his support in this campaign."
"I got to know Eric as we visited with millennials in various cities as part of Future Forum, the group Eric founded in the House, and I immediately saw that he gets what America is all about," Gallego said. "His work defending our democracy, speaking out for justice and equality for all, and making it easier for Americans to reach their dreams makes him the perfect candidate to lead our nation. I'm proud to join him as we go big, be bold, and do good."
After graduating from Harvard University with a degree in International Relations, he joined the Marine Corps, serving in Iraq with the well-known combat unit Lima 3/25. The loss of a close friend in combat and his desire to help fellow veterans motivated him to get into government.
Gallego in 2010 was elected to the Arizona House of Representatives, where he served as Assistant Minority Leader, leading opposition to an anti-LGBT bill that the governor ultimately vetoed, and leading pushes to expand Medicaid and secure in-state tuition for veterans.
He was elected to Congress in 2014, where he serves on the House Armed Services Committee and the Natural Resources Committee, chairing the Natural Resources Subcommittee for Indigenous Peoples of the United States. He is an Assistant Whip for the Democratic Caucus, the First Vice Chair of the Congressional Hispanic Caucus, Vice Chair of the Congressional Progressive Caucus and Congressional Progressive Caucus Tribal Liaison, and Vice Chair of the Equality Caucus.
Eric Swalwell, Swalwell Campaign Press Release - Congressman Ruben Gallego to Serve as National Chair of Swalwell of America Online by Gerhard Peters and John T. Woolley, The American Presidency Project https://www.presidency.ucsb.edu/node/365155