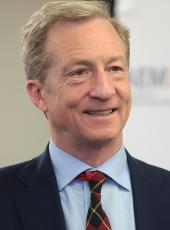 Steyer Campaign Press Release - Tom Steyer 2020 Throws Campaign Muscle into Virginia GOTV Efforts
Tom Steyer's financial commitment to progressive and grassroots causes remains uninterrupted, even while on the campaign trail
(SAN FRANCISCO, October 29, 2019) — On the heels of his debut appearance on the DNC debate stage in Ohio, presidential candidate for the Democratic nomination Tom Steyer is dedicating his own campaign staff and resources to help Virginia Democrats win seats in the General Assembly this year.
Steyer has a long history of using his personal resources and wealth to advance progressive causes at the grassroots level. In 2017, he led a coalition of NextGen America organizers in Virginia to turn out young voters in record-breaking numbers. In addition to the top of the ticket, these young voters contributed to major down-ballot victories in the House of Delegates.
"In the face of this generation-defining election, Tom recognizes that we need progressive change, up and down the ballot. This year alone, Tom has committed over $50 million outside of his presidential campaign to continue the critical grassroots work of numerous progressive causes," National Organizing Director Brandon Upson said. "This work includes funding NextGen America through the end of the 2020 election cycle and For Our Future, to support their outreach to working families and communities of color."
In addition to funding these initiatives with personal resources, the Steyer campaign is dedicating a number of campaign resources to elect Democrats in Virginia, a key battleground state.
National Distributed Organizing Director Clarice Criss said, "Our campaign staff mobilizing in Virginia are fired up to be supporting the Virginia Coordinated Campaign this cycle. We will be engaging with voters to increase turnout in critical districts. Our distributive organizers will be launching staging locations, knocking on doors, enlisting volunteers by sending over 250k dedicated texts, and engaging African American and Latinx voters in key districts."
Over the course of the next few weeks, over 10 campaign staffers will be on the ground in Virginia driving voter turnout in this critical election.
To speak to one of our National Organizing Directors or to obtain more information about this effort, please email [email protected] or call 559-393-3398.
Tom Steyer, Steyer Campaign Press Release - Tom Steyer 2020 Throws Campaign Muscle into Virginia GOTV Efforts Online by Gerhard Peters and John T. Woolley, The American Presidency Project https://www.presidency.ucsb.edu/node/366086