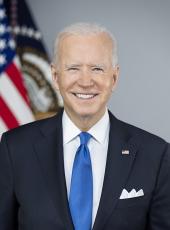 Statement by Vice President Joe Biden on World Day Against Trafficking in Persons
Victims of human trafficking are among the most vulnerable among us, and every year, millions of women, men, and children suffer through this form of modern-day slavery. On this World Day Against Trafficking in Persons, I stand with survivors and commit that as President, I will build on the work of the Obama-Biden Administration to end human trafficking. I will reassert the leadership role America has played on this issue for more than two decades.
Human traffickers seek out the most vulnerable members of our communities – children, immigrants, those experiencing poverty or homelessness, LGBTQ+ people, people with disabilities, and people of color. More often than not, these victims are women and girls. We can, and we must, do more to protect and empower the most vulnerable among us.
Protecting people from human trafficking should be above politics. President Trump and his administration claim to care about combating human trafficking. But the reality tells a different tale. They have demonized the communities most susceptible to trafficking, and as a result, have hampered the federal government's ability to fight this crime in our own country. By any relevant metric – federal investigations, charges and prosecutions against traffickers, number of survivors receiving immigration benefits – the Trump administration has grossly failed.
If elected, I will make it a priority to combat this terrible crime, protect those vulnerable to trafficking, and empower survivors to rebuild their lives with safety, dignity, and opportunity. Building on the work of the Obama-Biden administration, I will:
Expand federal grant programs that support citizen and non-citizen survivors of trafficking.
Enact immigration policies that protect survivors.
Improve our ability to identify human trafficking victims at the border.
Crack down on employers who engage in labor trafficking, including through their overseas supply chains.
Harness the responsible use of technology to combat trafficking online.
Improve public awareness efforts to empower individuals and communities with the tools to recognize and report human trafficking.
Increase the number of federal anti-trafficking task forces, which result in significant increases in arrests, investigations, and prosecutions of human traffickers.
Expand cooperation with democracies around the world to combat international human trafficking.
Prevent human trafficking across the globe by promoting human rights, strengthening the rule of law, and advocating for the rights of vulnerable communities in our international engagement.
On this World Day Against Trafficking in Persons, we must re-commit ourselves to the worldwide fight against human trafficking. And we must recognize that human trafficking happens in our own country, in our own communities. We all have a role to play: individuals, businesses, faith leaders, students, and government leaders. If you or someone you know might be a victim of human trafficking, contact the National Human Trafficking Hotline to report a tip or ask for help.
Joseph R. Biden, Statement by Vice President Joe Biden on World Day Against Trafficking in Persons Online by Gerhard Peters and John T. Woolley, The American Presidency Project https://www.presidency.ucsb.edu/node/345045