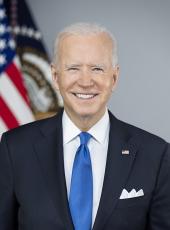 Statement by Vice President Joe Biden on U.S. Surpassing Eight Million COVID-19 Cases
In response to the United States has now surpassed eight million coronavirus cases and reports that President Trump's Treasury Department privately advised banks to prioritize loans in a way that undercut many minority and women-owned businesses, Vice President Biden released the following statement:
"President Trump is in deep denial, and Americans keep dying because of it. Last night, we heard the President congratulate himself on a job well done and claim yet again that our nation is 'rounding the corner' on this deadly pandemic — even as cases rise across the country. But, like most of what this president says, his empty boasts were completely unsupported by the facts or the reality faced by the millions of Americans who have been sickened, lost loved ones, lost jobs, or lost hope.
"The Trump Administration isn't protecting our economy or our entrepreneurs either. We learned earlier this week that, behind closed doors, President Trump's economic advisors raised early alarms about COVID to their Wall Street pals while the Administration was downplaying the threat in public. Small businesses across the country have been forced to shutter because President Trump's relief programs predictably favor the rich and well-connected. Today's report from the House Select Subcommittee on the Coronavirus Crisis confirmed in stark detail what so many business owners already knew: the cost of this administration's failure to look out for Main Street even as it gets battered, particularly the minority- and women-owned businesses who were forced to the back of the line by his policies.
"Enough is enough. President Trump has failed in the most basic duty of his office: to protect American's lives and livelihoods. Instead, he has yet to lay out a clear plan to get this virus under control or get our economy safely back up and running for anyone without an address on Park Avenue or Wall Street. I'll fight for working families by implementing the plan we've needed for the last eight months to get the virus under control, provide economic relief for families struggling to make ends meet, and support our small businesses. And I'll protect and expand our health care and make the investments we need to build our nation back better."
Joseph R. Biden, Statement by Vice President Joe Biden on U.S. Surpassing Eight Million COVID-19 Cases Online by Gerhard Peters and John T. Woolley, The American Presidency Project https://www.presidency.ucsb.edu/node/347025