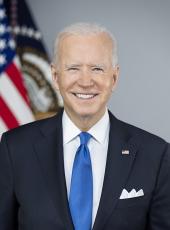 Statement by Vice President Joe Biden on the U.S. Surpassing Four Million COVID-19 Cases
Four million Americans have now been infected with the coronavirus — that's four million people testing positive, plus the nearly 150,000 dead and millions more jobless. And counting. They aren't just numbers on a chart for Donald Trump to ignore, they are loved ones mourned and dreams put on hold, or extinguished altogether.
It didn't have to be this bad, but at every juncture of this crisis President Trump has failed the fundamental role of a President: the duty to care — or in his case, the ability to care about anything beyond himself and his re-election. Instead of the wartime President we were promised, America is led by someone even his own aides and allies describe as "bored" and "distracted" by the fight against this virus, someone more interested in playing golf than leading our nation in a moment of crisis. He quit on this country and waved the white flag of surrender.
President Trump's failure to care, his refusal to listen to Dr. Fauci and the public health experts, and his inability to get testing and protective equipment to the frontlines, has left us in the grim position we're now in: an outlier and home to the worst COVID-19 outbreak among our peers — with Americans even barred from traveling to many countries. While other countries contain this virus, America's cases continue to mount and shatter new records day after day after day. While other countries get back to work, America just saw the first uptick in jobless claims this week in months as parts of our economy shut down again.
President Trump has failed us, but it's not too late to turn this around. For months I have said we must surge testing to communities that need them. We must get protective equipment to the heroes on the frontlines — and reshore its production so we never again face critical shortages. We must listen to the scientists, and most importantly we must provide the sort of strong leadership that has been so sorely missing from this White House. In doing so, we can save lives and protect our economy. After the immense suffering caused by President Trump's failure, Americans can't afford anything less.
Joseph R. Biden, Statement by Vice President Joe Biden on the U.S. Surpassing Four Million COVID-19 Cases Online by Gerhard Peters and John T. Woolley, The American Presidency Project https://www.presidency.ucsb.edu/node/345052