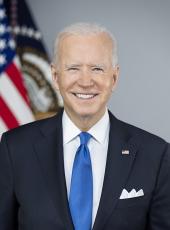 Statement by Vice President Joe Biden on the 19th Anniversary of the September 11th Attacks
Nineteen years ago, our nation was tested by an unspeakable act of cowardice and hate. Nearly 3,000 lives were cut short on that God-awful September day: a once-unthinkable toll which tore open the hearts of sons and daughters, parents, siblings, grandchildren and grandparents, neighbors and friends — loved ones faced with the harrowing, hollowing news that the dearest thing in their life had been suddenly taken away.
In the days that followed September 11th, we wondered together whether life in America had been permanently thrown off of its axis. But as so often happens in moments of crisis, the tragedy of 9/11 revealed the character of Americans. First responders and ordinary citizens who ran courageously into the cloak of ash and fire to save the lives of those they'd never met. A new generation who answered the call to serve their country in uniform. Our leaders, who put differences aside for a time to form a united front of empathy, comfort, and resolve for a nation in mourning. And our people, who came together to summon from our shared grief the hope and common purpose we needed to get up and go on.
Though the wounds of that day will never fully heal, the spirit of Americans recovered as it always does — unbowed by the efforts of those who strike against it. In the years since, American heroes have sacrificed bravely in service to our nation; thousands gave what Lincoln called "the last full measure of devotion," laying down their lives in defense of the American idea. Countless families, including my own, waited breathlessly for children to return home from theaters of war. We sought to heal and grow from the misplaced hatred directed toward Muslim Americans. Firefighters, police officers, and first responders battled long-term health consequences for their bravery — and our nation incurred a moral obligation to help those heroes, and deliver justice and accountability for all 9/11 families, that continues to this day. And the American people rose to every challenge with characteristic strength and resilience.
Like a generation once did in the wake of Pearl Harbor, this generation of Americans bore the burden that history placed on our shoulders that day. And this year, we mark the anniversary of 9/11 in the midst of another crisis that compels us to summon the best of the American people in the face of unconscionable, inconceivable loss — a crisis that has already taken nearly 200,000 Americans, testing our resolve and character with each passing day.
Now, as then, our heroes are ordinary people doing extraordinary things: nurses and doctors; delivery drivers and grocery clerks; public transit workers and educators; regular Americans thrust into courageous acts of sacrifice and service. Now, as then, we owe it to them to come together as a nation — so that Americans can once again do what we did so bravely nineteen years ago: turn from tragedy to purpose, rebuild our lives, and begin, in time, to heal.
Joseph R. Biden, Statement by Vice President Joe Biden on the 19th Anniversary of the September 11th Attacks Online by Gerhard Peters and John T. Woolley, The American Presidency Project https://www.presidency.ucsb.edu/node/345092