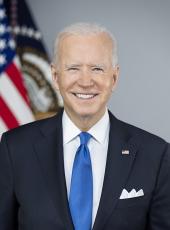 Statement by Vice President Joe Biden on His Faith
Like so many people, my faith has been the bedrock foundation of my life: it's provided me comfort in moments of loss and tragedy, it's kept me grounded and humbled in times of triumph and joy. And in this moment of darkness for our country — of pain, of division, and of sickness for so many Americans — my faith has been a guiding light for me and a constant reminder of the fundamental dignity and humanity that God has bestowed upon all of us.
For President Trump to attack my faith is shameful. It's beneath the office he holds and it's beneath the dignity the American people so rightly expect and deserve from their leaders. However, like the words of so many other insecure bullies, President Trump's comments reveal more about him than they do about anyone else. They show us a man willing to stoop to any low for political gain, and someone whose actions are completely at odds with the values and teachings that he professes to believe in.
My faith teaches me to love my neighbor as I would myself, while President Trump only seeks to divide us. My faith teaches me to care for the least among us, while President Trump seems to only be concerned about his gilded friends. My faith teaches me to welcome the stranger, while President Trump tears families apart. My faith teaches me to walk humbly, while President Trump teargassed peaceful protestors so he could walk over to a church for a photo op.
As I've said so many times before, we're in the battle for the soul of our nation, and President Trump's decision today to profane God and to smear my faith in a political attack is a stark reminder of what the stakes of this fight truly are.
Joseph R. Biden, Statement by Vice President Joe Biden on His Faith Online by Gerhard Peters and John T. Woolley, The American Presidency Project https://www.presidency.ucsb.edu/node/345100