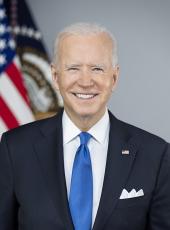 Statement by Vice President Joe Biden on Coronavirus Relief Negotiations
Morning after morning, Americans are waking to the heart-wrenching news of escalating infection and death totals — and an economic crisis exacerbated by Donald Trump's catastrophic failure to get the virus under control.
How is President Trump responding? He is making a push to block $25 billion for testing and contact tracing from the next package of pandemic relief — critical resources that are supported by congressional Republicans, and which support the most proven and effective tools for battling COVID-19.
President Trump's position defies both logic and humanity. The sole rationale seems to be that, in the words of his own advisors, he "doesn't want to be distracted by" a tragedy still gripping the United States — even as the rest of the developed world has managed largely to contain the worst of the threat. It is a morally, economically, and scientifically indefensible stance, which Congress should flatly reject.
With the President having turned his back on the problem, people are looking to Congress for the support they need to keep their heads above water. As the House and Senate prepare to negotiate the next package of pandemic relief, it is imperative that President Trump and Congress deliver a lifeline to those who need it most: working families and small businesses. Due in large part to the President's inept response to the crisis, tens of millions of workers still depend on unemployment benefits to make ends meet — and nearly one in ten American small businesses shut down in the week following July 4th alone. The need for substantial, immediate relief is beyond debate — we are plainly a nation in crisis.
The next phase of COVID-19 relief must be guided by four commonsense principles:
First, all necessary resources to fight the pandemic should be authorized immediately — without delay. If President Trump wants to block them, make him use his veto pen to deny testing, tracing, PPE, and other resources to the American people.
Second, not one penny should be spent on cutting taxes for the wealthiest Americans. The White House has floated at least three proposals to cut taxes for the super-wealthy and corporations. Congress should reject all of them.
Relief should go to workers stocking our shelves — not to millionaires selling their stocks.
It should go to families struggling to put food on the table — not to cover lavish corporate meals and entertainment.
It should go to small businesses desperate to keep the lights on — not to big corporations like Amazon that can easily withstand the pandemic.
Congressional Republicans should focus on ending the outrageous tax loophole for hedge fund investors and real estate developers that was hidden away in the CARES Act — not ending enhanced unemployment benefits for millions of Americans who lost their livelihoods due to the crisis, and who are trying to make ends meet until they are able to get back to work.
Third, Congress should mandate that any relief offered to struggling companies must not be used to outsource American jobs. COVID-19 funds, paid for by taxpayers to benefit the nation, should not be spent on displacing American workers. Congress has the power to ensure that loans go only to businesses that will deploy the funds to hire or protect American workers. They should exercise that power without delay.
Finally, the next relief package should provide enough resources for our governors and mayors to deal with the crisis locally — including full funding to prevent teacher layoffs and help schools reopen safely this fall. Last week, I called on Congress to pass an emergency education package that would give schools in every district the resources they need to upgrade their buildings, implement sanitation protocols, and otherwise give themselves the best possible shot to get students back into the classroom safely. School reopenings should be a local decision based on local circumstances — but mayors and governors won't have a chance if we don't provide safety guidelines and resources on a national scale. This plan must be part of bold state and local fiscal relief that goes beyond schools to fully protect health coverage, help address lost revenues due to the crisis, prevent hundreds of thousands of additional layoffs, and ensure the delivery of critical health and public safety services.
I urge Congress to act immediately — and President Trump to sign a relief package — with these three principles in mind. The American people are counting on their leaders to step up, and families and small businesses cannot afford for the relief they desperately need to once again be diminished, delayed, or diverted to the President's wealthy friends in the midst of this intensifying crisis.
Joseph R. Biden, Statement by Vice President Joe Biden on Coronavirus Relief Negotiations Online by Gerhard Peters and John T. Woolley, The American Presidency Project https://www.presidency.ucsb.edu/node/345096