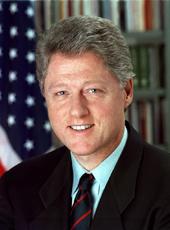 Statement on the Withdrawal of Michael Carns and the Nomination of John Deutch To Be Director of Central Intelligence
It is with profound regret that I accept General Michael Carns' decision to withdraw his name from consideration for the position of Director of Central Intelligence.
I understand General Carns' concern that allegations made against him in the course of his background investigation could be misconstrued and complicate his confirmation. The sad truth is that we live in a time when even the most exemplary individuals, like General Carns, who already has given so much to his country, are deterred from serving by the fear that their records will be distorted, their achievements ignored, and their families maligned during the confirmation process.
General Carns' decision to withdraw is our country's loss. This man, who flew more than 200 combat missions over Southeast Asia and distinguished himself as a military commander and an innovative manager, was prepared to come out of retirement to serve America one more time in a vital mission. I deeply regret that he will not have that opportunity and that our intelligence community and the American people will not have the benefit of his broad experience, his intelligence, and his dedication.
Finding another individual with the exceptional skills and qualities needed to lead the intelligence community was no easy task. But in Deputy Secretary of Defense John Deutch, who I am pleased to announce my intent to nominate as the next Director of Central Intelligence, we have found such a man.
Deputy Secretary Deutch has served at the highest levels of academia and Government in a wide variety of positions, from assistant professor of chemistry at Princeton to provost at MIT, from Under Secretary of Energy under President Carter to member of the President's Foreign Intelligence Advisory Board under President Bush, from Under Secretary of Defense to Deputy Secretary of Defense in my administration.
Over the past 2 years, I've enjoyed an increasingly close personal and professional relationship with Deputy Secretary Deutch. Together with former Defense Secretary Aspin and Secretary Perry, I have asked Deputy Secretary Deutch to take on some of the toughest, most important assignments at the Pentagon.
Deputy Secretary Deutch has played a lead role in reviewing our nuclear force posture. He's overseen the modernizing of our weapons systems. And he has become intimately familiar with the workings of the intelligence community, especially its support for the military. The blueprint Deputy Secretary Deutch worked out to eliminate redundancies and duplication between our civilian and military intelligence demonstrates the kind of innovative thinking we need to meet the new challenges of the postcold-war world.
Strengthening U.S. intelligence is an effort to which I attach the highest personal priority. To make that commitment absolutely clear and to underscore that he will be a full member of my national security team, I have decided to appoint Deputy Secretary Deutch to my Cabinet if he is confirmed as Director of Central Intelligence.
In John Deutch, we have a dynamic, brilliant leader with all the necessary skills for this critical assignment and my highest trust and confidence. I look forward to working with him, the Aspin commission, and Congress in building an intelligence community that will meet our national security challenges well into the next century.
NOTE: A statement by Michael Carns was also made available by the Office of the Press Secretary.
William J. Clinton, Statement on the Withdrawal of Michael Carns and the Nomination of John Deutch To Be Director of Central Intelligence Online by Gerhard Peters and John T. Woolley, The American Presidency Project https://www.presidency.ucsb.edu/node/221238