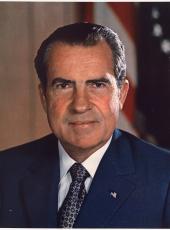 Statement of the Vice President of the United States, on Tidelands, Fort Worth, TX
In New Orleans in 1952, President Eisenhower pledged legislation to confirm the titles of the States to the tidelands.
That legislation passed the Senate in 1953 over the all-out resistance of 25 Senators. Senator Kennedy was one.
Today he asks your support, but 7 years ago he withheld his own support. On May 5, 1953, he denounced this legislation as a giveaway, and charged that it allowed a few States and companies to exploit resources belonging to all people of the United States.
Today, instead of Senator Kennedy, we have Candidate Kennedy. Candidate Kennedy talks a different tongue. The Supreme Court ruled that Texas and Florida have a rightful claim to more submerged lands than the other States. Now my opponent says he is for "equity."
What does he mean by "equity"?
He thought the tidelands bill was dead wrong. Would he now, in equity, like to repeal it? Would he equalize all States at zero? Would he like to cut back what Texas and Florida now have?
The sentiment for repeal does in fact exist. On October 18, Senator Jackson, Senator Kennedy's party chairman, repeated his 1953 charge that the tidelands legislation was a giveaway. He said, in effect, that he favored its repeal, except that he concluded by the time the repealer could be passed, the oil would be gone.
The point is this: Men so minded are enemies of States rights.
Where does my opponent stand?
I challenge him to tell you.
I challenge him to come here and tell you that he does not share his party chairman's view that the tidelands bill was a giveaway.
I challenge him to prove he and Jackson and Schlesinger and Galbraith and Bowles would have one sliver of concern for States' rights such as President Eisenhower and I have repeatedly demonstrated.
Another thing: On the 27½-percent depletion allowance for oil and gas, let him say just three words - "I support it," or these three: "I oppose it."
Those words coming from him would have the merit of clearing the air, if he dares to have it cleared.
My stand is clear and consistent. I believe that an adequate domestic supply of crude oil is essential to national defense. Imports of foreign-produced crude oil and refined products should be held as nearly as practicable to the point where they will supplement, and not supplant, domestic oil and refined products. Such a program must be administered in a manner which will maintain a healthy domestic oil-producing industry with adequate crude oil reserves for a national emergency, while at the same time furnishing the consumers of America with a plentiful supply of petroleum products at a reasonable price.
But from him we have-
(1) The Los Angeles platform, announcing its intention to make changes in the tax laws. It says, "Among the more conspicuous loopholes are depletion allowances which are inequitable."
(2) We have their vice presidential candidate saying that their presidential candidate would never touch the depletion allowances for oil and gas, though oil and gas account for more than 70 percent of all depletion allowances.
(3) We have Mr. Bowles, the author of the Los Angeles platform, explaining that "* * * we are probably throwing away revenues - the oil depletion allowance, for example."
Finally, we have categorical Jack. With impressive finality he says, "I believe we should study this and other allowances."
On this troubled subject of the oil and gas depletion allowance, my position can be put in three words: "I support it."
From Senators Kennedy and Johnson and the platform and Bowles come veiled threats, nervously besmogged by their adaptable vice presidential nominee.
On depletion allowances, I offer a pledge. My opponent offers a gamble. Which do you want?
Richard Nixon, Statement of the Vice President of the United States, on Tidelands, Fort Worth, TX Online by Gerhard Peters and John T. Woolley, The American Presidency Project https://www.presidency.ucsb.edu/node/273735