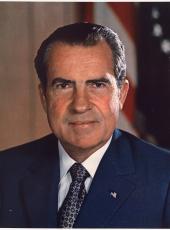 Statement of the Vice President of the United States, on Social Security, Fresno, CA
As has been his custom throughout this campaign, my opponent now says some more things about me. This time he tries to convince the people that I am against social security.
He has continued his misrepresentation of my position time and again when he has told the Nation that I am opposed to medical care for the aged. His campaign from Labor Day forward has been marked by this type of distortion. Does he think the American people can be duped?
Now, in a despicable and vicious manner, he tries to arouse the fears of our senior citizens by charging me with being the leader of the social security wrecking crew.
I say this to our senior citizens
The social security program would really be wrecked if my opponent's irresponsible spending programs were adopted.
Why do I make this charge?
I make it because my opponent's platform and campaign program are sure to damage seriously your social security benefits by sharply increasing the prices of everything you buy. Many of you know, from bitter personal experience, that when inflation is rampant and prices rise, your income never catches up. Many of you had that experience during the Truman administration. The result of the Truman inflation was the same as cutting social security benefits in half. A Kennedy-caused inflation could have the some result.
Our administration is the best friend that social security and those who depend on it have ever had. We have provided the leadership that has broadened the laws to cover approximately 12 million more people, and we have increased the benefits.
And what about the future?
I am committed to a program that would, among other things, extend benefits to 2,600,000 senior citizens who are not now covered by any public retirement system. Mr. Kennedy has absolutely no program for these forgotten men and women.
I am also committed to a program that would result in increased benefits for widows who are part of the social security system, and which would subject the entire benefit structure to periodic reviews to determine when upward adjustments should be made.
If he has his way, my opponent will wreck the standard of living for all who depend on the social security system.
For my part, I will provide the leadership and sympathetic interest which will strengthen and expand the social security system.
There is your choice. I am confident as to your decision next Tuesday.
Richard Nixon, Statement of the Vice President of the United States, on Social Security, Fresno, CA Online by Gerhard Peters and John T. Woolley, The American Presidency Project https://www.presidency.ucsb.edu/node/273741