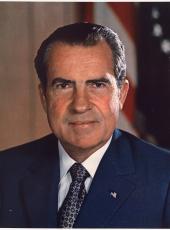 Statement of the Vice President of the United States on Recession, Madison, WI
Mr. Kennedy persists in his desperate tactic of predicting a recession in order to win an election.
Fortunately, our economy is so strong that Mr. Kennedy cannot talk it into trouble. Listening to Mr. Kennedy, you would never know that there was anything to the doughnut but the hole. What are the strengths in the economy? Since he isn't likely to tell you, let me do so.
Gross national product rose by $3 billion from the second to third quarter this year, excluding inventory change..
Electric power distribution is running 5 percent ahead of 1959.
Total employment in September exceeded comparable figures last year by 1,200,000.
Personal income is at an alltime high of $408 billion, a level of $25 billion higher than a year ago.
Wage and salary payments exceed the comparable 1959 rate by $15 billion.
Average hourly earnings of factory workers are 3 percent above 1959.
Personal savings are running at an all-time high rate of $20 billion annually.
Net farm income in the third quarter this year exceeded the year-ago rate by more than $1 billion.
Department store sales in October exceeded the October 1959 volume.
October automobile sales are believed to have been better than any October in history.
Construction contracts continue to exceed 1959 levels.
Manufacturers' new orders rose in September (last available data).
These clearly are not the marks of a sick economy, of an economy in recession.
The economy is strong, but it can be stronger. We can, and will, use every practical measure at Government's command to increase the number of jobs, decrease still further the number of jobless, utilize even more fully our capacity to produce, and attack the special problems of the distressed areas in the country.
We can do this without either going through a recession or regimenting America.
History will record the Kennedy recession of 1960 as his political wish which did not come true. What started out to be a pleasant daydream for Senator Kennedy will turn out tomorrow to be a horrible nightmare - and all this is to the public benefit.
Richard Nixon, Statement of the Vice President of the United States on Recession, Madison, WI Online by Gerhard Peters and John T. Woolley, The American Presidency Project https://www.presidency.ucsb.edu/node/273799