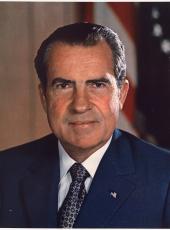 Statement of the Vice President of the United States, on Immigration, Philadelphia, PA
Many of the most glorious chapters in American history have been written by those immigrants who came here with a strong yearning to share in the American ideal of opportunity and freedom.
The greatness we now enjoy has resulted in large measure from our national fusion of the best ideals and the strongest energies of the many and diverse nations that have provided us with our American forebearers.
We all should have a continuing and abiding interest in formulating and supporting a realistic immigration program. There can be no question but that our immigration laws should and must be liberalized. It was in this belief that President Eisenhower again urged Congress in March of this year to enact comprehensive and far-reaching amendments to the immigration laws. Unfortunately, Congress, controlled by Mr. Kennedy and his followers, took no action on any of these proposals.
High on the list of changes which must be made are the following:
1. A substantial increase in the number of immigrants admitted each year. The maximum number immediately authorized for annual admission is approximately 154,000. I urge that this total be doubled, which would mean admitting a number equal to one-sixth of 1 percent of our total population.
2. Pooling of the national quotas. Each year there are nations which do not use up their immigration quotas. For instance, the English quota is over 65,000 but only a minute fraction of that number is admitted from England each year. At the same time, the quotas of many other nations, such as Italy and Greece, are oversubscribed. I urge legislation which would permit the distribution of unused quotas among those nations which have oversubscribed theirs.
3. The out-dated 1920 census should be abandoned as the immigration quota base. The present restrictions on the number of persons admitted each year are based in part on the results of that census. I urge the substitution of the 1960 census result to make our immigration program more realistic and meaningful.
4. Attention must be given to the problem of relatives of American citizens.
Further amendments to the immigration laws must be enacted to give greater recognition to immigrants from the newly emerging nations of the world.
I regard these changes in our immigration laws as one of the most important tasks we must undertake in the next session of the Congress.
Richard Nixon, Statement of the Vice President of the United States, on Immigration, Philadelphia, PA Online by Gerhard Peters and John T. Woolley, The American Presidency Project https://www.presidency.ucsb.edu/node/273629