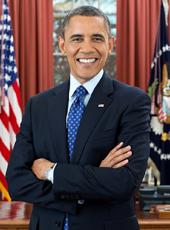 Statement by the Press Secretary on H.J.Res. 76, H.R. 2270, H.R. 2297, H.R. 2693, H.R. 2820, H.R. 3594, H.R. 3831, H.R. 4246, S. 614, S. 808, S. 1090 and S. 1461
On Friday, December 18, 2015, the President signed into law:
H.J.Res. 76, which provides that the second regular session of the 114th Congress will begin at noon on Monday, January 4, 2016;
H.R. 2270, the "Billy Frank Jr. Tell Your Story Act," which redesignates the Nisqually National Wildlife Refuge, located in the State of Washington, as the Billy Frank Jr. Nisqually National Wildlife Refuge;
H.R. 2297, the "Hizballah International Financing Prevention Act of 2015," which establishes statutory sanctions on foreign financial institutions that facilitate transactions or money laundering on behalf of Hizballah or its agents;
H.R. 2693, which designates the arboretum at the Hunter Holmes McGuire VA Medical Center in Richmond, Virginia, as the Phyllis E. Galanti Arboretum;
H.R. 2820, the "Stem Cell Therapeutic and Research Reauthorization Act of 2015," which reauthorizes and updates authority for programs at the Department of Health and Human Services to support bone marrow transplantation and research, and umbilical-cord blood transplantation, treatment, and research;
H.R. 3594, the "Federal Perkins Loan Program Extension Act of 2015," which temporarily extends the Federal Perkins Loan program for undergraduate students and continuing graduate student borrowers, to require return of Perkins Loan funds to the Department of Education, and to provide for additional disclosures to Perkins Loan borrowers;
H.R. 3831, the "Securing Fairness in Regulatory Timing Act of 2015," which extends the current-law notice and comment period for annual Medicare Advantage rate notices;
H.R. 4246, the "National Guard and Reservist Debt Relief Extension Act of 2015," which Exempts, for an additional four years through December 18, 2019, members of the Armed Forces reserves and the National Guard from a means test presumption of abuse in determining eligibility for Chapter 7 bankruptcy relief, if, after September 11, 2001, they were on active duty or performing a homeland defense activity for at least 90 days;
S. 614, the "Federal Improper Payments Coordination Act of 2015," which amends the Improper Payments Elimination and Recovery Improvement Act of 2012 to allow further access to, and use of, Federal information to help reduce improper payments;
S. 808, the "Surface Transportation Board Reauthorization Act of 2015," which (1) establishes the Surface Transportation Board (STB) as an independent agency; (2) authorizes appropriations for the STB for FYs 2016-2020; and (3) updates the authorities of the STB;
S. 1090, the "Emergency Information Improvement Act of 2015,"
which makes certain nonprofit broadcasting facilities eligible for disaster assistance under the Public Assistance Grant Program administered by the Federal Emergency Management Agency;
and
S. 1461, which requires the Centers for Medicare & Medicaid Services to continue through Calendar Year 2015 an instruction not to enforce, with respect to critical access hospitals and small rural hospitals, a Medicare direct-supervision requirement for outpatient therapy services.
Barack Obama, Statement by the Press Secretary on H.J.Res. 76, H.R. 2270, H.R. 2297, H.R. 2693, H.R. 2820, H.R. 3594, H.R. 3831, H.R. 4246, S. 614, S. 808, S. 1090 and S. 1461 Online by Gerhard Peters and John T. Woolley, The American Presidency Project https://www.presidency.ucsb.edu/node/319247