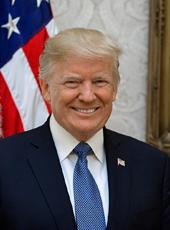 Statement by the Press Secretary Congratulating NASA Astronauts Aboard the International Space Station
Today, President Donald J. Trump spoke to National Aeronautics and Space Administration (NASA) astronauts Christa Koch and Jessica Meir during the first all-woman spacewalk from the International Space Station (ISS). Both Koch and Meir were members of NASA's 2013 astronaut class, half of whom were women. Koch is currently serving on an extended mission to the ISS and is scheduled to achieve the record for the longest stay in space by a woman. The President was joined on the call by Vice President Mike Pence, Advisor to the President Ivanka Trump, and NASA Administrator Jim Bridenstine.
Since taking office, President Trump has put a renewed focus on space and human space exploration. In March, the President charged NASA with returning Americans to the Moon by 2024, one step closer to the American goal of exploring Mars. This spacewalk highlights the advancements of women in science, technology, engineering, and mathematics (STEM) – an initiative that has been championed by both the President and Ivanka Trump. In September 2017, the President issued a memorandum to increase access to high-quality STEM and computer science education for American students of all backgrounds. The memorandum directed the Department of Education to allocate a minimum of $200 million in annual funding to make STEM and computer science education a priority for relevant competitive grant programs. Adding to that commitment, Ivanka urged private-sector leaders to commit an additional $300 million in computer science and STEM education.
For the first time in American history, college-educated women are a majority of the college-educated labor force. Young women are increasingly enrolling in STEM-related coursework, which develops foundational skills needed for many jobs of the future. In fact, during the 2018 to 2019 school year, the number of female students taking Advanced Placement computer science increased by an astonishing 32 percent. President Trump, Advisor Trump, and the Trump Administration applaud these great strides and continue to encourage women from all backgrounds to reach their fullest potential academically and professionally.
The Trump Administration has prioritized access to STEM education, and the growing use of technology across many sectors of the economy make it more important than ever that all Americans have the STEM skills necessary to remain competitive. To ensure all learners have access to high-quality STEM education, the Federal Government, in partnership with stakeholders from across the country, developed, and are currently implementing a strategy to build strong foundations for STEM literacy, increase diversity and inclusion in STEM, and prepare the STEM workforce for the future. Events like this are an exciting example of what can be accomplished when STEM is prioritized.
"Women and girls around the world are seeing some of their earliest dreams realized today with this historic all-woman spacewalk. Women in STEM are a force to be reckoned with and advocating for increased access to these fundamental educational skills has been some of the most important work I've been able do." – Advisor to the President Ivanka Trump
"With today's first all-woman spacewalk on the International Space Station led by NASA astronauts Christina Koch and Jessica Meir, America once again sets a precedent for women to lead in human space exploration. Today's historic effort continues to lay the foundation for our Artemis program when the first woman and next man walk on the surface of the Moon in preparation for the next giant leap – sending astronauts to Mars." – NASA Administrator Jim Bridenstine
Donald J. Trump, Statement by the Press Secretary Congratulating NASA Astronauts Aboard the International Space Station Online by Gerhard Peters and John T. Woolley, The American Presidency Project https://www.presidency.ucsb.edu/node/334899