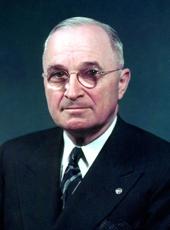 Statement by the President Upon Signing the Sugar Control Extension Act.
I AM TODAY signing the Sugar Control Extension Act of 1947 which continues through October 31, 1947, the authority to control the price, allocation and rationing, importation, and exportation of sugar and related materials. Through this legislation the Congress has recognized the urgent need of continuing this authority beyond March 31, 1947, and has taken action which to that extent is in the national interest.
It is necessary that I sign this measure in order to avoid any lapse in sugar distribution controls after March 31. I sign it with reluctance, however, in view of the fact that October 31 appears to be too early for the termination of sugar controls. This fact was recognized by many members in both Houses of the Congress, both in Committee and in debate.
As I explained in my message to the Congress on January 31, 1947, regarding the extension of certain powers granted in the Second War Powers Act, there is a continuing world shortage of sugar. While our supplies in 1947 will be larger than those available last year, they will still be substantially below prewar per capita supply and still further below estimated demand.
I should like to emphasize the fact that sugar supplies in the United States normally approach a low level early in the fall. If controls are ended on October 31, the situation may be as dangerous as if they had been allowed to lapse today.
In setting the October 31 termination date, the Congress apparently assumed that supplies by that time might be materially larger than those now definitely in prospect. It is true that domestic sugar production is being greatly expanded, especially in our beet sugar areas, as a result of the Government's program to increase supplies, and that under the Commodity Credit Corporation's purchase program we shall obtain our share of the greatly increased Cuban production. However, we shall not benefit substantially by an increase in new crop supplies until early in 1948. In addition, normally large export producers, such as the Philippine Islands, Java, and Formosa, are still practically out of production as a result of war devastation. Recovery will be slow, although the favorable production factors for this year in those areas have been considered in allocation and rationing calculations.
Sugar controls are of concern not only to domestic producers and users but have international implications as well. As the purchaser of the Cuban sugar crop, this country acts as the agent of friendly nations to make sure that other countries as well as our own receive their fair share of the world's sugar supply. We must continue to fulfill our pledge of dealing fairly with other nations while guaranteeing to the American consumers the maximum amount that our share of total world supplies permits this year. A premature ending of controls over sugar would bring about a scramble of competing countries for the inadequate supplies now in prospect. A period of soaring sugar prices and unrestrained competition in the world market might, after a brief period of false prosperity, result in disastrous economic consequences for the sugar-producing countries.
In view of all these factors, the provisions in the bill originally reported out by the Senate Banking and Currency Committee for continuation of controls through March

31, 1948, with provision for earlier termination by the Secretary of Agriculture if the supply situation made such action possible, would have been preferable to the earlier mandatory termination date of this Act.
If it becomes apparent later in the year that hopes for supply increases are not materializing, and that discontinuance of sugar controls by October 31 would not be in the public interest, I shall ask the Congress to reconsider the present terminal date for sugar control authorization. Such action would be in accordance with the possibilities which were clearly recognized by members of the Congress in the course of debate on the current extension.
I have been informed that the appropriated funds available for continued sugar controls are inadequate to carry out these controls effectively for the rest of this fiscal year. No administrative agency can be expected to administer these controls without sufficient funds. The Congress should see to it that necessary financial provisions are made, both for the rest of this fiscal year and for the period of operation and liquidation in the next fiscal year.
Note: The Sugar Control Extension Act of 1947 is Public Law 30, 80th Congress (61 Stat. 35).
Harry S. Truman, Statement by the President Upon Signing the Sugar Control Extension Act. Online by Gerhard Peters and John T. Woolley, The American Presidency Project https://www.presidency.ucsb.edu/node/232845