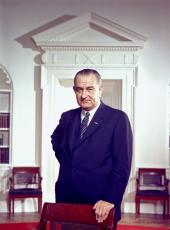 Statement by the President Upon Signing the Southeast Hurricane Disaster Relief Act of 1965.
I HAVE today signed H.R. 11539, the Southeast Hurricane Disaster Relief Act of 1965.
This legislation is a fine example of constructive cooperation by the Congress and the executive departments and agencies in providing promptly additional authority needed to aid the victims of disaster.
The act has two major purposes. First and most immediate is the provision of more adequate financial assistance to those suffering property damage or loss from Hurricane Betsy, which struck Louisiana, Mississippi, and Florida early in September.
I am advised that the property loss from Betsy will probably equal or exceed the loss in any other disaster in the past two decades. We have been doing everything we can under present Federal authority jointly with State and local authorities and the Red Cross, but under present law direct Federal aid to property owners who have suffered losses is limited to the provision of long-term loans at low interest rates. Private insurance companies are absorbing hundreds of millions of dollars in losses. But thousands of families have had their homes severely damaged or destroyed by floods or other water-caused damages against which they could not purchase insurance protection, because insurance for this type of risk was not available for them to buy.
The legislative history of this act makes it clear that both the Senate and the House of Representatives desired to give special assistance to those victims of the hurricane who suffered losses for which no insurance was obtainable. Accordingly, within certain limitations the act permits a person who receives a disaster loan from the Small Business Administration or an emergency loan from the Farmers Home Administration, because of loss or damage resulting from Hurricane Betsy, to obtain a cancellation of part of the principal, or a waiver of part of the interest, due from him under the loan agreement. One of the most important of these limitations is that this relief will be given only in the case of uninsurable loss or damage--such as that resulting from flood, high water, or wind-driven water. It cannot be extended, nor should it be, to those who did not take advantage of available insurance protection.
In accordance with the intent of the law, the loss-sharing will be governed by an equitable formula designed to provide in general the most liberal assistance to those suffering the greatest loss in relation to their resources.
And for those not eligible for disaster or emergency loans, and hence not eligible for relief under this legislation, I am confident that Red Cross assistance will continue to be available.
The second major purpose of this bill and its most significant potential contribution is to authorize the immediate initiation of a study by the Secretary of Housing and Urban Development of alternative permanent programs which could be established to help provide financial assistance in the future to those suffering property losses in floods and other natural disasters, including but not limited to disaster insurance or reinsurance. Such a basic study is long overdue.
This act is the sixth law passed in 18 months for the specific purpose of broadening Federal aids for the victims of the unusually severe succession of disasters experienced since the spring of 1964. In every case, we have had to act on such legislative proposals on an emergency basis. In three of the six cases the legislation was limited to one specific disaster.
This administration has long supported action to undertake such a basic study, and the Senate has twice passed legislation to authorize it. I am happy to note that the Congress now has not only provided the necessary statutory authority but also has appropriated funds to get the study underway. Hopefully when it is completed it will provide the basis for developing a workable program of protection for property owners in disaster areas either by extending the insurance plan of pooling the risks or by joint Federal-State sharing along with the private owners the cost of losses arising from uninsurable risks.
Note: As enacted, the Southeast Hurricane Disaster Relief Act of 1965 is Public Law 89-339 (79 Stat. 1301).
The statement was released at Austin, Tex.
Lyndon B. Johnson, Statement by the President Upon Signing the Southeast Hurricane Disaster Relief Act of 1965. Online by Gerhard Peters and John T. Woolley, The American Presidency Project https://www.presidency.ucsb.edu/node/241111