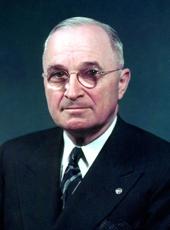 Statement by the President Upon Signing the Second Decontrol Act.
I HAVE today approved H.R. 3647, extending until March 1, 1948, the authority of the Government to regulate the export of commodities which are in critically short supply here and abroad; to control the importation and domestic use of a small group of essential commodities which we must obtain from sources of supply abroad; to allocate transportation equipment of rail carriers; and to direct the delivery abroad of goods required for the production in foreign countries of commodities urgently needed in the United States, or required for carrying out our foreign policy.
The bill differs only in detail from that requested in my message to the Congress on this subject. Thus, we have again demonstrated to the world our unanimity on matters affecting our international relations. This is particularly significant and timely at this moment when so much attention is focused abroad on our desire to assist nations willing to cooperate in the common objective of reconstruction.
I wish it had not been necessary to request a continuation of these controls. But world shortages have by no means been dispelled and the threat of inflation has not been dissipated. The haphazard distribution of our produce throughout the world could only lead to higher prices at home and suffering for the neediest of our friends abroad.
Our objective continues to be the removal of interferences with world trade. We shall, accordingly, use these controls sparingly and dispense with them as soon as conditions permit. I should be less than candid, however, were I not to say that I believe the need for some supervision of our foreign trade will continue beyond next February.
Under this legislation, it will be the duty of the Secretary of Commerce to watch the effect upon the domestic economy of the exercise of these powers. This responsibility ties in closely with the work I requested him to undertake when, on June 22, I appointed a representative, nonpartisan public committee headed by him to consider the effect upon our domestic economy of the exports we are now shipping abroad or may furnish as economic assistance to foreign countries. It is imperative that these programs of assistance be conceived and executed so as to be of maximum benefit to such foreign countries, without having an unduly adverse effect upon our domestic economy.
I am gratified that the Congress has again demonstrated its willingness to support the achievement of our foreign policy objectives. Despite the aversion of our people to controls, I am confident that under these circumstances they will approve of their continuance.
Note: The Second Decontrol Act of 1947 is Public Law 188, 80th Congress (61 Stat. 321).
Harry S. Truman, Statement by the President Upon Signing the Second Decontrol Act. Online by Gerhard Peters and John T. Woolley, The American Presidency Project https://www.presidency.ucsb.edu/node/232044