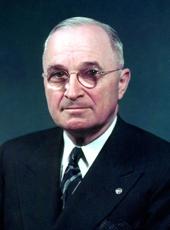 Statement by the President Upon Signing the Hospital Survey and Construction Act.
THIS BILL (S. 191) lays a groundwork for providing more and better medical care for the people of our country. Its aim is to assist States in the construction of necessary physical facilities for furnishing adequate hospital, clinical and similar services to all their people. Such construction is to be in accord with plans based upon surveys of existing needs. I am in full accord with these objectives. The construction of hospitals and related facilities was the first item in the five-point health program advocated in my message to the Congress last November.
I should not be frank, however, if in signing this bill I failed to point out certain of its provisions which I consider objectionable.
The bill contains a provision which is contrary to sound principles of administration in that it sets up a council composed of individuals who are not to be full-time officials of the Government and authorizes this council not only to advise the Surgeon General but to exercise a veto power over certain of his actions. Regulations required by the bill must receive the approval of the council. The council may reverse the action of the Surgeon General disapproving a State plan because of failure to meet requirements of Federal law. I consider that such power over the action of Federal officials responsible for the administration of a grant program involving the expenditure of Federal moneys constitutes a potentially dangerous precedent.
The bill also provides that if the State agency through which an application was filed is dissatisfied with the action of the responsible Federal administrator denying a construction project the agency may appeal to the Federal courts. For the first time under a Federal program of grants in aid this bill would sanction the judicial overriding of administrative discretion which Congress has entrusted to an official it holds responsible for granting Federal funds.
The urgent need of a prompt start upon the program, particularly the survey and planning aspects, accounts for my signing the measure in spite of these shortcomings. I look to those who will be charged with responsibility for its administration to see that, so far as possible within the limitations indicated, the basic objectives of the bill are fulfilled. I shall not hesitate to press for changes which may be necessary to assure that such purpose is accomplished.
Note: The Hospital Survey and Construction Act is Public Law 725, 79th Congress (60 Stat. 1040).
Harry S. Truman, Statement by the President Upon Signing the Hospital Survey and Construction Act. Online by Gerhard Peters and John T. Woolley, The American Presidency Project https://www.presidency.ucsb.edu/node/232023