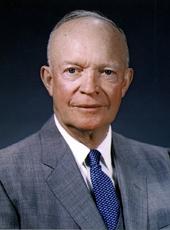 Statement by the President Upon Signing the Agricultural Act of 1956.
I HAVE TODAY approved the farm bill, H. R. 10875.
The heart of the bill is the soil bank. Its acreage reserve will help bring production of certain crops into balance with their markets. It will check current additions to our price-depressing, market-destroying surplus stocks of farm products. It is a concept rich with promise for improving our agricultural situation.
The conservation reserve feature of the soil bank can be the most significant advance in the conservation field in many years. It will result in improved use of our soil and water resources for the benefit of this and future generations. Together with the forestry provisions of the bill, it will increase our supply of much needed forest products. It will help hold rain and snow where they fall and will heal with grass and trees the scars of erosion which now mar our countryside. It will make for better land use in those areas of the Great Plains which have experienced dust storms. It will reduce the stimulus to livestock production, induced by feed-grain output on acres diverted from wheat and cotton.
The delay in the bill's enactment, however, makes it virtually impossible to put the soil bank properly into effect in 1956 and I am disappointed that advance payments to farmers are not provided for.
Most of the harmful provisions of the previous farm bill have been deleted or have been substantially modified. Some of them still remain, however, and some new ones have been added.
Sections 202 and 203, which apply to cotton, are particularly unfortunate. This administration is committed to a policy of orderly disposal of agricultural surpluses abroad and a healthy expansion of international trade. This policy is in our national interest and serves to promote the strength of the free world. These two sections call for measures which could result in a serious setback to this policy.
Section 203 requires the Government to follow an inflexible program of cotton export sales with little regard to costs and without adequate regard to the far-reaching economic consequences at home and abroad. In order to avoid seriously disruptive effects, this section of the bill will have to be administered with extreme caution.
Section 202 intensifies further the restrictions already applied on imports of long-staple cotton at a time when domestic cotton of this type is fully competitive with foreign growths and domestic consumption is rising. The same section of the legislation requires the Government to export Commodity Credit Corporation stocks of extra long-staple cotton, a type which we normally do not sell abroad in significant quantities.
Section 204 authorizes the President to negotiate agreements to limit certain imports outside the procedures established by our Trade Agreements legislation. This section represents an undesirable complication in the field of foreign trade.
The effective operation of a two-price plan for rice is faced with several serious problems, which must be carefully evaluated before a decision is made as to whether to institute such a plan.
In freezing acreage allotments for rice and cotton for the next two years at the 1956 level the bill runs counter to the adjustment principle which underlies our basic agricultural legislation.
Despite the shortcomings of the bill, its advantages outweigh its harmful provisions. I am gratified with the constructive features it contains and I am hopeful that the Congress will review and repair its shortcomings.
Note: As enacted, H. R. 10875 is Public Law 540, 84th Congress (70 Stat. 188). For veto of earlier farm bill, see Item 82.
Dwight D. Eisenhower, Statement by the President Upon Signing the Agricultural Act of 1956. Online by Gerhard Peters and John T. Woolley, The American Presidency Project https://www.presidency.ucsb.edu/node/232890