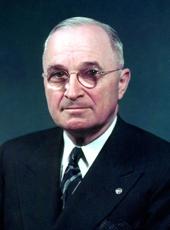 Statement by the President Upon Signing Temporary Appropriations Bill.
I HAVE today signed H.J. Res. 226, making temporary appropriations for the fiscal year 1949, and for other purposes.
This joint resolution is what is sometimes referred to as a "continuing resolution." It authorizes the expenditure of urgently needed funds for which appropriations are contained in the First Deficiency Appropriation Bill, 1949, now in conference between the two Houses of the Congress. Its purpose is to permit essential operations of the Government to continue while the Congress gives further consideration to the matters now in disagreement between the two Houses.
I have signed the joint resolution with regret, because it contains a provision to which I strongly object. This provision places arbitrary and unwise restrictions on the use of appropriated funds for paying the salaries of the Commissioner, the Assistant Commissioners, and the Regional Directors of the Bureau of Reclamation. Its effect is to maintain for the time being the present situation in which certain of these officers are prevented from receiving their salaries by a rider which was included by the 80th Congress in the Interior Department Appropriation Bill of last year.
I want to make it clear that I am signing the present joint resolution only as a means of making funds available for carrying on the Government's work while the principle involved in this provision is given further consideration. It is my understanding that the Congress enacted the present joint resolution upon that same basis and that the presence of this provision in the joint resolution does not indicate the judgment of the 81st Congress that such a provision is desirable.
The rider enacted last year was designed to effect the removal from the Government service of two men who have vigorously enforced the provisions of the Reclamation Laws designed to encourage family-size farms. Its enactment violated the spirit, if not the letter, of the Constitutional provisions for separation of legislative and executive functions and the Constitutional prohibition against bills of attainder. There can be no justification for the use of the appropriation power for such a purpose.
The prohibition against paying the salaries of the officers in question should be terminated, and I am confident that the Congress will terminate it at an early date.
Note: As enacted, H.J. Res. 226 is Public Law 62, 81st Congress (63 Stat. 67).
The two men referred to by the President were Michael W. Straus, Commissioner of the Bureau of Reclamation, and Richard L. Boke, a Regional Reclamation Director. Both men remained in their posts without salary until October 12, 1949. At that time the President signed Public Law 350 (63 Stat. 765) in which the restrictions affecting the two men were omitted.
For the rider enacted by the Both Congress, see the Interior Department Appropriation Act of 1949, approved by the President on June 29, 1948 (62 Stat. 1112).
Harry S. Truman, Statement by the President Upon Signing Temporary Appropriations Bill. Online by Gerhard Peters and John T. Woolley, The American Presidency Project https://www.presidency.ucsb.edu/node/230285