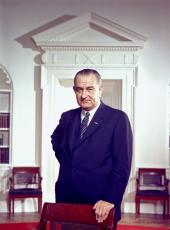 Statement by the President Upon Signing Bills Authorizing Release of Zinc and Nickel From the National Stockpiles.
THE TWO BILLS which I have just signed will enable us to reap the benefits of past prudence and apply them to our present needs. H.R. 9047 authorizes the release of 200,000 tons of zinc from our national stockpiles of strategic materials.
H.R. 10305 authorizes the release of 200,000,000 pounds of nickel from those stockpiles.
These valuable metals were acquired to prevent possible shortages of strategic materials in a time of national emergency. But our inventories now contain many millions of pounds for which our military planners foresee no future military need. Yet these metals can be put to essential use today.
The time has come to start moving these excess inventories from the stockpile to the smelter. They are needed at home, and they are needed to support our effort in Viet-Nam.
The United States first began stockpiling strategic materials in 1939. We did so to meet possible national defense needs and free the United States from dependence on foreign supplies in times of national emergency. These stockpiles served us well in World War II and in Korea. They are serving us now in Viet-Nam.
Vast quantities of copper, tin, zinc, aluminum, and other metals win no battle while they lie in a storage bin. Instead, they must give us the weapons and the airplanes, the trucks and the helicopters needed on the field of combat in Viet-Nam. We must move them from the stockpile to the factory and we must move them faster.
Since I have been President, we have greatly speeded up that process. During the past fiscal year alone, more than $430 million worth of excess materials were moved from our stockpiles and put to productive use. That was more than three times the value of excess stocks disposed of in the preceding fiscal year, and six times more than the Government disposed of in fiscal year 1961.
By using the excess stocks we have, we greatly benefit both American industry and American consumers. For example, zinc from our stockpiles has been used in this year's record-breaking production of automobiles. Recent releases of copper were essential to the continued high production of our brass and wire mills, our manufacture of copper tubing, and will be the sole source of the large quantities of core material for our new coinage made necessary by the increasing gap between silver supply and demand.
By using the excess stocks we have, we benefit the taxpayer and the national economy. The excess stocks removed from the stockpile during the past fiscal year returned to the Treasury $50 million more than their original cost. And to the extent that metal is withdrawn from our own stocks, the need for imports from abroad is reduced, and thus our balance of payments position is improved. The excess stocks disposed of last year alone saved nearly $400 million in foreign purchases.
Experience has proved that all of this can be accomplished while:
--meeting the present and future needs of our national defense.
--maintaining an orderly market for the continued prosperity of our industries.
--reducing the cost to the taxpayer of maintaining excess, unnecessary stockpiles of strategic materials.
This has not been accomplished by the executive branch alone. It has been achieved in close partnership with the Congress and American industry. During these past 2 years, for example, in addition to daily and weekly consultations, more than 25 formal industry wide meetings have been held between industry and representatives of our Government agencies. Out of such cooperation have come the benefits I have described.
By continuing this partnership, I am confident that in the year ahead we can improve our records still further.
Note: As enacted, H.R. 9047, approved November 4, is Public Law 89-322 (79 Stat. 1213); H.R. 10305, approved November 5, is Public Law 89-323 (79 Stat. 1213).
On November 6, 1965, following an increase in aluminum prices, the White House made public a statement by Gardner Ackley, Chairman of the Council of Economic Advisers, announcing that the Council had concluded, following a review of the situation, that the increases by the aluminum industry "have no justification under the wage-price guidelines and therefore are inflationary."
Also made public on November 6 were statements by Secretary of the Treasury Henry H. Fowler, recommending the release of stockpiled aluminum as an essential step m defend the U.S. balance of payments, and by Secretary of Defense Robert S. McNamara, discussing proposed formulas for disposing of stockpiled aluminum.
The text of all three statements is printed in the Weekly Compilation of Presidential Documents (vol. 1, pp. 474-475).
The President's statement was released at Austin, Tex.
Lyndon B. Johnson, Statement by the President Upon Signing Bills Authorizing Release of Zinc and Nickel From the National Stockpiles. Online by Gerhard Peters and John T. Woolley, The American Presidency Project https://www.presidency.ucsb.edu/node/241118