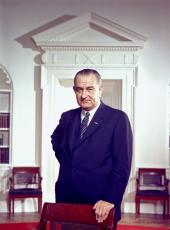 Statement by the President Upon Signing Bill Suspending the Investment Tax Credit and Accelerated Depreciation Allowance.
I HAVE today signed legislation which suspends temporarily the investment tax credit on machinery and equipment and accelerated depreciation on buildings. This legislation was submitted to the Congress on September 8, as a vital part of our effort to combat inflationary pressures and to preserve the strength of our dynamic economy.
This measure will help:

--restore more normal interest rates and ease tight money and credit conditions;

--free funds and resources for homebuilding and other essential uses;

--trim down excessive backlogs of machinery orders;

--curb upward pressures on prices and costs of capital goods;

--guard against a needless repetition of the old pattern of boom and bust in capital spending; and

--improve our current balance of payments position.
The great 89th Congress deserves to be commended by the American people for its prompt, vigorous, and responsible action on this legislation. The House Ways and Means Committee, the Senate Finance Committee, and the leadership and Members of the House and Senate all demonstrated decisiveness and responsibility in a difficult task. Once more the Congress and the administration have shown that they can and will work together for stable prosperity in our free economy.
Because of a unique combination of economic demands at home and pressures generated by our defense of freedom in Southeast Asia, it became necessary to suspend the investment credit. But we look forward to its help once again to achieve our objective of a high investment, technologically dynamic, growth-oriented economy. As I have said before, "This is a firm, long-term plan that we intend to carry out. A high level of business investment is indispensable to our prosperity and our economic growth."
The legislation which I have signed provides for automatic restoration of these special tax provisions in January 1968. If, however, any earlier reinstatement would be appropriate, I shall recommend prompt legislative action to accomplish that result.
Meanwhile, our financial markets have already delivered a verdict on this measure. The rise in interest rates during the first 8 months of this year was reversed early in September. Today, long-term rates are down roughly 1/4 percentage point from their late summer peaks. Security markets are behaving with orderly confidence. It is clear that we are ready to use a two-way fiscal policy to promote the cause of stable prosperity--to stimulate a lagging economy or to restrain one threatened with excess demand.
At the time I proposed this measure, I also suspended for the time being the sales of Federal participation certificates to relieve financial market pressures. Finally, I announced that vigorous action would be taken to hold down and cut back Federal nondefense spending and that action is underway.
I can assure the Nation that our free and vigorous economy and responsible Government will work together to continue the greatest prosperity in our history. I renew my pledge to the American people to take whatever action is necessary to maintain this unprecedented record.
Note: As enacted, the bill (H.R. 17607) is Public Law 89-800 (80 Stat. 1508).
For the President's September 8 message to Congress on fiscal policy, see Item 444.
The statement was released at San Antonio, Texas.
Lyndon B. Johnson, Statement by the President Upon Signing Bill Suspending the Investment Tax Credit and Accelerated Depreciation Allowance. Online by Gerhard Peters and John T. Woolley, The American Presidency Project https://www.presidency.ucsb.edu/node/238440