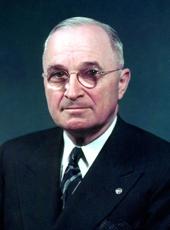 Statement by the President Upon Signing Bill Relating to the Tribal Funds of the Ute Indian Tribe.
I HAVE approved H.R. 3795, "to provide for the use of the tribal funds of the Ute Indian Tribe of the Uintah and Ouray Reservation, to authorize a per capita payment out of such funds, to provide for the division of certain tribal funds with the Southern Utes, and for other purposes."

This legislation marks the fact that a significant turn of events has been reached in the relations between the United States and the Ute Indians.
Grievances which the Ute Indians had against our Nation, for treatment accorded them long ago, have been adjudicated through orderly court procedures. The Government has paid the compensation which the court said was due these Ute Indian citizens. The legislation to which my approval has just been given makes provision for dividing this fund among the three organized tribes of Ute Indians. In addition, it sets forth a program for use of the share awarded to the Ute Indian Tribe of the Uintah and Ouray Reservation. Under this program, some part of the compensation will be used by individual Ute Indians, some of it will be soundly invested in land and capital goods, and the remainder will be held in reserve to finance future needs of the Indians. I consider this Ute tribal program eminently sound and I am especially pleased to learn that the planning was carried out by the Indians themselves.
One point of significance in this event is that the United States, by settling its score with this group of Indians, has made it possible for the Indians to put their own affairs in order and to prepare themselves for the fullest participation in the affairs of our Nation. Another, and perhaps more important, point is that native peoples of the United States have again demonstrated that once they are given the opportunity and tools to work with, they can contribute to the stability and betterment of our civilization.
I congratulate the Indians of the Uintah and Ouray Reservation upon their sound planning. I am hopeful that the other two tribes of Ute Indians will soon complete plans for the use of their shares of the compensation that has been awarded to them.
Note: As enacted, H.R. 3795 is Public Law 120, 82d Congress (65 Stat. 193).
Harry S. Truman, Statement by the President Upon Signing Bill Relating to the Tribal Funds of the Ute Indian Tribe. Online by Gerhard Peters and John T. Woolley, The American Presidency Project https://www.presidency.ucsb.edu/node/230619