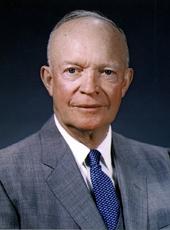 Statement by the President Upon Signing Bill Relating to the Red River Flood Control Project.
ALTHOUGH H.R. 4362, relating to the construction of Cooper Dam and Reservoir on South Sulphur River, Texas, and to the construction of certain other improvements on various of its tributaries, contains features which I believe violate good governmental fiscal practice, I have approved the bill because of its generally worthwhile purpose.
The act will modify the authorized flood control project for the Red River below Denison Dam to provide for construction of Cooper Dam and Reservoir on South Sulphur River, Texas, and for construction of channel improvements, levees, and drainage works along various tributaries in Texas, Oklahoma, Arkansas, and Louisiana. Construction is authorized substantially in accordance with the recommendations contained in a report of the Chief of Engineers and is subject to the conditions that local interests contribute toward the cost of construction of Cooper Dam the amounts allocated to water supply and, with respect to other works, (a) provide lands, easements and rights-of-way, (b) hold and save the United States free from damages, and (c) maintain and operate the works.
The act requires local interests to contribute toward the cost of construction, maintenance and operation of Cooper Reservoir the amounts allocated to water supply, but it makes no provision for a local contribution in consideration of the benefits from enhancement of land values attributable to the flood protection anticipated from the improvements which are authorized. Failure of the act to require adequate sharing of costs in consideration of these benefits is a serious departure from a well established policy under which those who receive the benefits from an increase in property values due to higher land use made possible by a project are expected to share in the cost of the project improvements.
The specific effect of the non-incorporation in the bill of the existing general policy will be to increase the Federal cost of the project by more than $900,000. Not only does it seem inequitable to relieve the beneficiaries of the enhancement of land values from this project from the standard requirement for cost sharing which has been imposed on the beneficiaries of other similar projects, but equally important, it will almost certainly be cited as a precedent for similar waivers of local participation in many other projects unless corrective action is taken.
For these reasons I earnestly hope that the Congress will reassess the sharing of costs authorized by the act and increase the requirement for local contributions before Federal appropriations are made available.
Note: As enacted, H.R. 4362 is Public Law 218, 84th Congress (69 Stat. 449).
Dwight D. Eisenhower, Statement by the President Upon Signing Bill Relating to the Red River Flood Control Project. Online by Gerhard Peters and John T. Woolley, The American Presidency Project https://www.presidency.ucsb.edu/node/233428