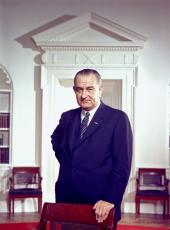 Statement by the President Upon Signing Bill Relating to Claims of U.S. Nationals Against the Government of Cuba.
I HAVE signed into law H.R. 12259. The basic purpose of this bill is to authorize the Foreign Claims Settlement Commission to determine the amount and validity of claims of United States nationals against the Government of Cuba.
The Castro regime has expropriated over $1 billion worth of property of United States nationals in total disregard for their rights. These unlawful seizures violated every standard by which the nations of the free world conduct their affairs.
I am confident that the Cuban people will not always be compelled to suffer under Communist rule--that one day they will achieve freedom and democracy. I am also confident that it will be possible to settle the claims of American nationals whose property has been wrongfully taken from them.
This bill will provide for the adjudication of these claims of American nationals. I have signed it because of the importance of making such a permanent record while evidence and witnesses are still available.
There is, however, another provision of this bill that requires further study. This provision vests in the Federal Government ownership of certain assets of the Cuban Government now held in the United States. These assets are already blocked and are thus of no further use to the Cuban Government. The proceeds from the sale of the vested assets will not be available to American nationals whose properties were expropriated, but will be used to pay for the expenses of administering the bill.
The United States strongly adheres to the sanctity of property. The vesting of the property of foreign governments or nationals is not a step that we should undertake without careful consideration.
I am, therefore, requesting the Secretary of State to make a full study to determine the effect of the vesting provision on American interests abroad and its implications for the conduct of our foreign relations.
I am also requesting an opinion by the Attorney General concerning the precise scope and application of the vesting provision. The language of this provision is ambiguous concerning its possible application in various circumstances. It is unclear, for example, whether the provision applies to the property of American nationals that was unlawfully expropriated by the Castro regime. Similarly, there is doubt whether it applies to certain properties in which other countries have substantial interests.
In the light of these studies, I may find it necessary to propose amendatory legislation with regard to the vesting provision. The present bill provides for a 6-month waiting period before the vesting provision becomes operative. If I conclude that the amendatory legislation is required, I will propose it early next year so that it can become effective before the end of the 60-month period.
Note: As enacted, H.R. 12259, approved by the President on October 16, is Public Law 88-666 (78 Stat. 1110).
Lyndon B. Johnson, Statement by the President Upon Signing Bill Relating to Claims of U.S. Nationals Against the Government of Cuba. Online by Gerhard Peters and John T. Woolley, The American Presidency Project https://www.presidency.ucsb.edu/node/242161