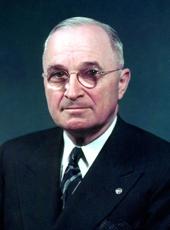 Statement by the President Upon Signing Bill Raising the Pay Rates of Federal Employees.
I HAVE today signed the Postal Rate Revision and Federal Employees Salary Act of 1948 (H.R. 6916).
I have done so even though the act meets neither the needs of the employees nor those of the Government.
In my Budget Message in January, I stated that the best approach to the cost-of-living problem faced by Federal employees was to enact a comprehensive program to hold living costs down. This would not only have aided Federal workers but would also have given relief to our people generally. But the Congress did not enact such a program, and prices have continued to rise.
Since the Congress failed to take action to hold down the cost of living, it is only fair that Federal employees should be given pay increases to offset in some degree the constantly rising cost of living.
It is unfortunate, however, that the Congress, in attempting to grant relief, has acted in such a manner as to aggravate an already serious situation.
The act grants a flat increase to employees covered by the Classification Act. Differences between the upper and lower pay grades, already substantially reduced by the pay raises given in 1945 and 1946, are further decreased by this act. The effect of this is to reduce seriously the opportunity for salary advancement which should go with increased responsibility.
For example, young chemists who have just received their undergraduate degrees will receive, under this act, $2974.80 a year for working in Government laboratories. Working alongside of these recent graduates will be some of the Nation's outstanding scientists who, after 20 or 25 years of service, will be receiving only $10,330 as the heads of these laboratories.
Another fundamental defect in the act is that when this law becomes effective the members of many of our boards and commissions and some heads of agencies will be receiving $10,000 while groups of their employees will be compensated at the rate of $10,330. In other words, those who are ultimately held responsible for what happens in these agencies will be getting less money than some of the persons employed by them.
This is, of course, a violation of the principles of sound management. I know of no other way to characterize it than to say that it is ridiculous. Certainly nowhere else could one find a situation comparable to it in either public or private employment.
No successful industrial concern would tolerate a situation which provided as narrow a spread between entrance salaries and the general salary ceiling as that which now exists in the Federal Government or which resulted in administrators receiving less pay than some employees supervised by them.
Businessmen wouldn't tolerate it because they know that it would destroy the morale of the persons in their employ and, in many instances, result in their most competent personnel seeking and obtaining employment elsewhere.
The results which would follow from such a policy in industrial concerns follow just as certainly in the Federal Government. The Congress, by refusing to follow the suggestions which I transmitted to it in March for a general revision and simplification of the Government's salary classification structure and by failing to raise salary ceilings in a realistic way, has seriously impaired the morale of some of our best employees, and has put the Executive branch in a position where it will undoubtedly lose more of its most competent career employees. As a result, the Congress has thrown new obstacles in the way of the efficient management of the Executive branch.
This act also discriminates against employees of the District of Columbia Government, including the teachers in the public schools, by excluding them from the present pay increases. To deny these employees, living in a city which has the highest living costs in the Nation, the pay increases given other employees living in the same area is grossly unfair.
In spite of these considerations, I believe that the employees covered by this act are entitled to at least as much relief as the Congress has provided. That is why I have signed the act.
I have no intention, however, of permitting the matter to rest at this point. There are approximately 2,000,000 men and women working in the Federal Government. They are conscientious, hard-working, loyal citizens who are rendering an outstanding service to the people of this Nation. I have said before and I say again that I have the greatest respect and regard for their devotion to duty and the work they are doing.
I want these employees to know, therefore, that in the interest of correcting this intolerable situation and strengthening and improving the career service, I shall urge that the Congress pass legislation which will set Federal pay scales at the proper levels for all employees including members of the Cabinet and the heads of the independent agencies, as well as persons who are occupying key positions in the professional, scientific, and technical fields, and modernize and simplify the Classification Act of 1923, and once again provide a proper relationship between jobs.
It is dear that the Government can never compete on a dollar-for-dollar basis with business and industry, particularly in the upper salary brackets. Government can compete with business and industry, however, when it comes to dealing with its employees in a fair and equitable manner on salary matters. If it has this kind of a reputation, the satisfaction which comes to Government employees because of the knowledge that they are serving their fellow human beings will serve to attract and retain in the public service the first-rate men and women we so greatly need.
Note: As enacted, H.R. 6916 is Public Law 900, 80th Congress (62 Stat. 1260).
Harry S. Truman, Statement by the President Upon Signing Bill Raising the Pay Rates of Federal Employees. Online by Gerhard Peters and John T. Woolley, The American Presidency Project https://www.presidency.ucsb.edu/node/232644