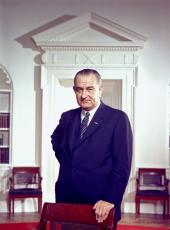 Statement by the President Upon Signing Bill Extending the Food and Agriculture Act of 1965.
TODAY I have signed H.R. 17126, a bill extending the Food and Agriculture Act of 1965 for 1 year.
This bill continues existing programs for our basic agricultural commodities--wheat, feed grains, cotton, rice, milk, and wool-at their present levels through the 1970 crop year.
As in any business, advance planning is essential to the farmer. By adopting this measure, Congress has provided farmers a measure of protection and stability for a short time.
The Food and Agriculture Act of 1965 was landmark legislation. The fact that the Congress enacted a 4-year bill was clear recognition that supply-management programs are a continuing, not a 1-year, problem. The acreage allotment, diversion, direct payment, and price support programs made it possible for farmers to adjust production to anticipated demand and remain competitive in world markets. At the same time, the act helped us reverse the costly trend of growing surpluses which plagued us in the 1950's.
Termination of the programs provided under the 1965 act would cause a severe reduction in cash prices received by farmers. Farm income would drop by as much as onethird--back to its 1959 level. This would mean actual bankruptcy for many thousands of farmers. It would shake our entire economy-not just our agricultural economy--to its very foundations. So--while present farm prices are still far too low--no one should minimize the importance of the price protection provided by the 1965 act.
Despite the short term relief this extension gives, I regret that the Congress did not act favorably on the recommendations in my special message of February 27, 1968. To be plain about it, the farmer has already suffered from this inactivity, and from those who have played politics with these farm problems this election year.
I asked the Congress to enact the programs of the 1965 act as permanent legislation-just as the Wagner Act, the various regulatory acts, and the antitrust laws provide a continuing framework for the commercial activities of labor and industry. But the Congress provided only this 1-year extension.
I recommended the creation of a National Food Bank, a security reserve of basic commodities which would have meant higher grain prices for our farmers today. But the Congress failed to act on this request.
I urged legislation to provide more bargaining power for the farmer--an opportunity to build collective strength for better price and terms in the marketplace. But the Congress failed to pass this legislation.
Consequently, many of the farmer's problems have simply been swept under the rug this year. They will not go away.
The farmer--ironically the victim of his own perseverance and ingenuity, and advances in farm technology--will still be able to produce far more than we can consume at home or provide to the .people of other nations.
Despite his effort to organize more effectively, the farmer will remain a fragmented force in a time of increasing concentration.
He will still not have the capacity to tailor his production to market demands. He will still need help--including the help of his Government.

This does not mean that present farm programs are perfect. They are far from it. I share the concern of others that some Government payments are so large--while many small farmers find it difficult to survive even with Government assistance. Therefore, I have asked the Department of Agriculture to study the effect of a payment limitation on programs which require voluntary diversion of productive land to meet supply-management goals.
Nevertheless, I caution against heeding those who condemn farm programs without offering viable alternatives. The American farmer will never receive higher prices simply because someone promises "to do more" for him. Agriculture--our first industry-will need carefully planned, well-operated programs in an era of increasing sophistication and technological complexity.
We have traveled a long way from the dreary Benson years--when flexible price supports only "flexed down," when farm income dropped by 20 percent from 1952 to 1960, when the Commodity Credit Corporation had over $8 billion in surplus by 1960.
Under Secretary Freeman's tireless and able leadership, the foundation has been prepared. Net income per farm has risen more than 60 percent since 1960. This administration has not permitted the farmer to become the neglected man. Now, the challenge ahead is to bring rural America fully into the enjoyment of the material blessings of our society.
I hope that challenge will be one of the first orders of business of the next administration-as it has been in this one.
Note: As enacted, the bill (H.R. 17126) is Public Law 90-559 (82 Stat. 996).
In his statement the President referred to Ezra Taft Benson, Secretary of Agriculture 1953-1961, and Orville L. Freeman, Secretary of Agriculture.
For the President's special message to Congress of February 27, 1968, see Item 94.
Lyndon B. Johnson, Statement by the President Upon Signing Bill Extending the Food and Agriculture Act of 1965. Online by Gerhard Peters and John T. Woolley, The American Presidency Project https://www.presidency.ucsb.edu/node/237224