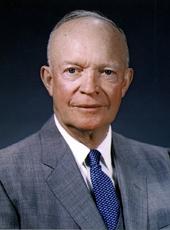 Statement by the President Upon Signing Bill Creating the Muscatine Bridge Commission.
I HAVE APPROVED today H. R. 11010, "Creating the Muscatine Bridge Commission and authorizing said Commission and its successors to acquire by purchase or condemnation and to construct, maintain and operate a bridge or bridges across the Mississippi River at or near the city of Muscatine, Iowa, and the town of Drury, Illinois."
Last month, a part of the existing bridge between these two cities collapsed into the Mississippi River. Emergency ferry service is being provided on a temporary basis, but the need for an adequate bridge remains urgent. The collapsed span was authorized by an Act of Congress in 1888, and had been operated by a private company, under the terms of the Congressional enactment.
I have approved H. R. 11010 in the belief that the financing and construction of a replacement bridge may be achieved more quickly through the creation of a special bridge commission than by other means presently available to the two States involved. I wish to point out, however, that I would not be inclined to approve the creation of bridge commissions of the type contemplated by H. R. 11010, were it not for the emergency circumstances indicated above.
The construction and operation of interstate bridges traditionally has been a State rather than Federal responsibility. Under the 1946 Bridge Act and the interstate compact procedure, the States should have ample authority to cope with these matters without Federal legislation creating special bridge commissions. Moreover, special bridge commissions, as a method of organization, present serious legal and administrative problems. Important among these is the fact that, because the commissions are not clearly Federal or State agencies, no official or agency is charged with the responsibility of assuring that they faithfully carry out their public responsibilities.
A number of such bridge commissions are now in existence. Because of the peculiar legal status indicated above, I would recommend that Congress at the earliest practicable time give consideration to the enactment of general legislation which would clarify the status of existing bridge commissions and require that they be subject to the following uniform safeguards:
(1) Provision for an annual audit by competent authority, and
(2) Regularized provisions fixing conditions for filling commission vacancies.
I would also suggest that the several States at their forthcoming legislative sessions consider the adequacy of existing State laws to cope with future problems concerning interstate bridges, and to facilitate possible assumption by the States of responsibility for existing Federally-authorized bridge commissions.
Note: As enacted, H. R. 11010 is Public Law 811, 84th Congress (70 Stat. 669).
Dwight D. Eisenhower, Statement by the President Upon Signing Bill Creating the Muscatine Bridge Commission. Online by Gerhard Peters and John T. Woolley, The American Presidency Project https://www.presidency.ucsb.edu/node/232983