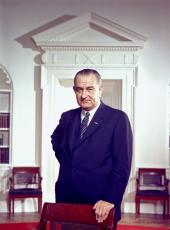 Statement by the President Upon Signing Bill Authorizing the Sale or Loan of Warships to Friendly Powers.
I HAVE today signed H.R. 7812 which authorizes the sale or loan of 11 warships to friendly foreign countries in Europe, South America, and Asia. It will authorize:
(1) The sale or loan of two destroyers to Argentina and three destroyers to Brazil.
(2) The loan of two conventional submarines to Italy; one helicopter carrier to Spain; two destroyers to Turkey; and one destroyer escort to the Philippines.
This marks the first addition since 1961 to the Defense Department's ship loan program which was started in 1951. Instead of being maintained in an inactive reserve fleet, these ships will now be able to make a significant contribution to the defense of the free world when operated by friendly foreign nations. As in the past, this program continues to give selected navies the capability to fill defense gaps around the world which the United States itself cannot reasonably fill.
During the first 10 years of the program-1951 through 1961--11 public laws have enabled the United States to loan, sell, or grant 82 ships to 23 foreign countries.
In addition to the earlier programs and the new proposed sales or loans, the U.S. Navy has sponsored, under the military assistance program, two other programs of great value to friendly navies and to the defense of the free world.
Under one program 17 ships, minesweepers, patrol boats, and motor gunboats, are today being constructed under contract by foreign governments in United States shipyards. Six guided missile destroyers, three for the Royal Australian Navy and three for the Republic of Germany, have been authorized since 1962, and also are under construction.
The second program involves the Navy's training of foreign navy personnel who are or will be responsible for the operation of U.S. equipment installed on their ships. They undergo technical training at the various U.S. Navy service schools throughout the United States. Friendly foreign ships and their crews also are trained operationally, as units, in U.S. waters under the direction of U.S. Navy personnel. The value to the United States of this assistance has been demonstrated in the regularly scheduled fleet exercises involving various free world navies. These fleet exercises provide allied operational training on a realistic basis, and demonstrate the effectiveness of our military assistance program to the defense of the free world.
Note: As enacted, H.R. 7812 is Public Law 89-324 (79 Stat. 1214).
The statement was released at Austin, Tex.
Lyndon B. Johnson, Statement by the President Upon Signing Bill Authorizing the Sale or Loan of Warships to Friendly Powers. Online by Gerhard Peters and John T. Woolley, The American Presidency Project https://www.presidency.ucsb.edu/node/241089