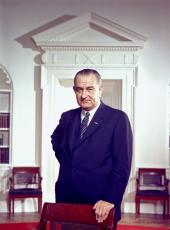 Statement by the President Upon Signing Bill Authorizing Exemplary Rehabilitation Certificates for Certain Persons Discharged from the Armed Forces.
I HAVE SIGNED a bill which offers new hope to persons discharged from the Armed Forces under conditions other than honorable. Thanks to this measure, they will now have an opportunity to rehabilitate their reputations by exemplary conduct in civilian life.
There are some half million men and women in our country who have been separated from military service without honorable discharges. Many of them were young and immature at the time of their offense or failure. Yet, they cannot rid themselves of this blot on their record no matter how admirable a life they may lead. Their questionable discharge accompanies them throughout life. It is a serious handicap to employment. It is frequently a stigma in their community and embarrassing to their families.
The new law recognizes a basic principle of American justice: A man who has acknowledged his past mistakes and overcome his weaknesses, deserves a chance to overcome his past failures. It will permit a discharged serviceman to obtain an Exemplary Rehabilitation Certificate from the Secretary of Labor whenever he can justify to the Secretary that he has led an exemplary life for at least 3 years since the date of his discharge.
The certificates will not be issued lightly. Each application must be supported by statements from the chief law enforcement officer of the applicant's community, from his employer, and from at least five other persons who can testify to his conduct and habits.
In addition to the Exemplary Rehabilitation Certificate, the successful applicant will also be entitled to special job counseling and other assistance conducted by the Department of Labor. Many of those affected are young men and women who came from severely disadvantaged backgrounds. They will now be able to take advantage of counseling and manpower programs already available to others so disadvantaged, including those discharged from prisons.
The underlying principle of this measure is both simple and important: It recognizes the fallibility of man--and also his capacity for rehabilitation.
Note: As enacted, the bill (H.R. 16646), approved on October 15, 1966, is Public Law 89-690 (80 Stat. 1016).
Lyndon B. Johnson, Statement by the President Upon Signing Bill Authorizing Exemplary Rehabilitation Certificates for Certain Persons Discharged from the Armed Forces. Online by Gerhard Peters and John T. Woolley, The American Presidency Project https://www.presidency.ucsb.edu/node/238084