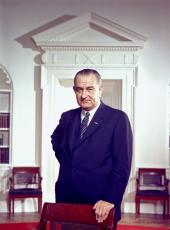 Statement by the President Upon Signing Bill Amending the Tariff Schedules With Respect to Imports of Certain Wool Fabrics.
I HAVE SIGNED H.R. 653, a bill which amends the tariff schedules of the United States.
This measure establishes a uniform tariff on imports of reprocessed wool fabrics or blends of such fabrics. The duty rate will be based on the chief weight of the fabric.
Duty rates on wool fabrics have been based on the rate applicable to the component having the greatest value. Consequently, importers have been able to escape the higher wool tariff by blending reprocessed wool fabrics with small amounts of high value non-wool material. The addition of these other components has been for the sole purpose of establishing a lower duty and has not altered in any way the characteristics or use of the fabric.
The Congress passed and I signed legislation in 1965 and 1966 which closed this tariff loophole on two specific components. H.R. 653 seeks a broader and more permanent solution by adopting the chief weight test. The history of "loophole" importation since the wool tariff was established in 1961 indicates that a more uniform tariff on a chief weight basis is a realistic solution.
However, I do not wish this bill to be a device to cut off legitimate trade. These imports fill a need of American consumers of modest means. While Italy--the principal supplier--sends only 20 percent of its exports of these fabrics to the United States, it is still an important item in the trade between our two nations. Elimination of this trade would also affect adversely exports to Italy of about $6 million of wool rags which are used in making these fabrics.
I fear that the Congress may have imposed too harsh a remedy. The tariff rate established by H.R. 653 will result in a high duty for these low cost fabrics. It would be most unfortunate if this tariff had the effect of stifling all imports of these products to the United States. Such a result would be contrary to our trade policies and our best interests.

Because of my concern that traditional trade should not be disrupted, I am today asking the Tariff Commission to study and report to me no later than December 31, 1968, the effect of the duty established by implementation of the chief weight test and what simple ad valorem rate or rates of duty would provide a reasonable degree of tariff protection for this U.S.. domestic industry.
In the event it should be determined that a lower duty is more equitable, I shall request the Congress to take prompt action to establish the appropriate tariff rate.
I have discussed this procedure with Members of both Houses of the Congress who are most concerned with this issue. They concur that congressional action on any tariff revision recommended by the Tariff Commission is proper and have agreed that any such proposal will receive fair and prompt consideration.
Let me make it clear that I have approved this bill only because an unusual problem-one which has resulted in artificial manufacturing practices by foreign manufacturers and has imposed a high degree of uncertainty on the domestic industry--has existed since 1961 under existing tariff schedules. It remains my firm view that liberal trade policies and efforts to achieve the elimination of barriers to fair trade are in the best interests of our Nation and our trading partners.
Note: As enacted, the bill (H.R. 653), approved on October 24, 1968, is Public Law 90-638 (82 Stat. 1359).
The Tariff Commission study referred to by the President was requested in his letter of October 24 to Stanley B. Metzger, Chairman of the Commission (4 Weekly Comp. Pres. Docs., p. 1527). The Commission's findings were set forth in its "Report to the President, U.S.. Tariff Commission, Certain Wool Fabrics" (T.C. Publication 275, 1969).
Lyndon B. Johnson, Statement by the President Upon Signing Bill Amending the Tariff Schedules With Respect to Imports of Certain Wool Fabrics. Online by Gerhard Peters and John T. Woolley, The American Presidency Project https://www.presidency.ucsb.edu/node/236894