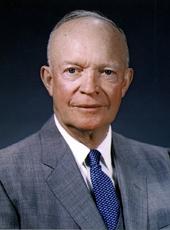 Statement by the President Upon Signing Bill Amending the Merchant Marine Act of 1936.
I HAVE approved S. 3233, an act "To amend the Merchant Marine Act, 1936, to provide permanent legislation for the transportation of a substantial portion of waterborne cargoes in the United States-flag vessels."
The United States requires a merchant marine which, as I have said before, constitutes our fourth arm of defense. However, I have been concerned over the manner in which this merchant marine is to be maintained.
In transmitting my message on Foreign Economic Policy, to the Congress on March 30, 1954, I stated that we must have a merchant marine adequate to our defense requirements. I also stated that such support of our merchant fleet as is required for that purpose should be provided by direct means to the greatest possible extent. In keeping with this approach, I asked the Department of Commerce to study the extent to which direct means can be utilized in maintaining an adequate merchant marine.
It appears that the major purpose of S. 3233 is to confirm on a permanent basis policies we have been following for a number of years. United States vessels are already carrying better than 50 percent of aid cargoes and cargoes resulting from the Government's stockpiling program. However, certain provisions of this legislation cause me concern and I hope the next Congress will reconsider them. I refer particularly to the provision with regard to currency convertibility which, if it applies to Title I of Public Law 480, 83d Congress, would handicap the disposal of United States agricultural products abroad, and to the provision with regard to offshore procurement which, by forcing United States vessels into trades in which they normally do not operate, could increase the cost of the aid program. I am asking the Attorney General for an opinion on the applicability of the currency convertibility provision.
I am hopeful that the Department of Commerce study will result in some sound suggestions for the maintenance by direct means of a merchant marine adequate to the requirements of the United States. When this study is completed, I may wish to recommend additional changes in this legislation.
Note: As enacted, S. 3233 is Public Law 664, 83d Congress (68 Stat. 832).
The statement was released at Lowry Air Force Base, Denver, Colo.
Dwight D. Eisenhower, Statement by the President Upon Signing Bill Amending the Merchant Marine Act of 1936. Online by Gerhard Peters and John T. Woolley, The American Presidency Project https://www.presidency.ucsb.edu/node/232630