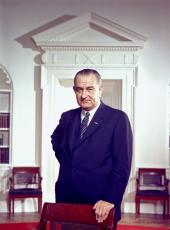 Statement by the President Upon Ordering Withdrawal of American Dependents From South Viet-Nam.
FOLLOWING meetings with the National Security Council, I have directed the orderly withdrawal of American dependents from South Viet-Nam.
It has become clear that Hanoi has undertaken a more aggressive course of action against both South Vietnamese and American installations, and against Americans who are in South Viet-Nam assisting the people of that country to defend their freedom. We have no choice now but to dear the decks and make absolutely clear our continued determination to back South Viet-Nam in its fight to maintain its independence.
In addition to this action, I have ordered the deployment to South Viet-Nam of a Hawk air defense battalion. Other reinforcements, in units and individuals, may follow.
Note: A White House release of the same day stated that United States and South Vietnamese air elements were directed to launch joint retaliatory attacks against barracks and staging areas in North Viet-Nam, which intelligence had shown to be actively used by Hanoi for training and infiltration of Viet Cong personnel into South Viet-Nam. The release pointed out that, "as the U.S. Government has frequently stated, we seek no wider war. Whether or not this course can be maintained lies with the North Vietnamese aggressors. The key to the situation remains the cessation of infiltration from North Viet-Nam and the clear indication by the Hanoi regime that it is prepared to cease aggression against its neighbors."
Later in a release of February 11 the White House reported that "in response to further direct provocations" the air elements of the two governments had joined in making attacks against the North Vietnamese facilities. The release stated that while it was the desire of the two governments to avoid spreading the conflict, they felt compelled to take the action.
Lyndon B. Johnson, Statement by the President Upon Ordering Withdrawal of American Dependents From South Viet-Nam. Online by Gerhard Peters and John T. Woolley, The American Presidency Project https://www.presidency.ucsb.edu/node/240555